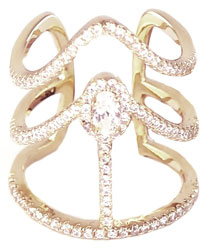 JamieRocks & Co is a women-owned and operated business that is passionate about delivering quality merchandise while providing unparalleled customer service. JamieRocks & Co offers designer jewelry and accessories that are fashionable yet affordable. They work directly with manufacturers so retailers are getting the best possible pricing on original items.
Their product line includes earrings, bracelets, necklaces, hair accessories, rings, jewelry displays, and scarves. JamieRocks & Co's high-quality and reasonably priced accessory lines allows every women to enjoy and pamper themselves with alluring pieces.
Furve Duchess Faux Fur Scarf
JamieRocks & Co has found this designer faux fur scarf to be a big hit for customers. Retailing from $49.99 to $89.99, the faux fur scarf is paired with a 100% feels like silk scarf for a fabulous combo look.
Trendy Fashion Jewelry
Necklaces, earrings, bracelets, rings, and more. Enjoy a huge selection of gold, silver, turquoise, and precious stone offerings.
JamieRocks wholesale features include designer products, handmade products, quality assurance, new products each season, and direct-from-manufacturer pricing. Minimum order is just $200 and two pieces. Visit JamieRocks & Co to open a wholesale account.
JamieRocks & Co
3728 Phillips Hwy Suite 49
Jacksonville, Florida 32207
Tel.: 201-792-9633
Website: www.jamierocks.com