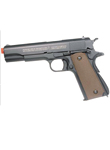 If you are looking for a new, profitable line of merchandise that is growing in popularity, take Roanoke, VA based Mason Distributing Co.'s advice, and consider a line of Airsoft guns. What are Airsoft guns? First, they are not real guns, but a hobby gun that is a non-lethal, shooting replica of actual firearms, that the owner can either display or use in skirmishes with friendly competitors. The Airsoft is not a pellet gun or a BB gun that shoots metal BBs, which can hurt someone. Instead, the Airsoft shoots a plastic BB.
What is attracting an increasing number of people around the world to Airsoft is that the guns are 1:1 scale replicas of the actual firearms. The Airsoft guns mimic the look and feel of the real thing, but the way you tell them apart is by the blazing orange tip on the device. There are four major types of Airsoft guns: spring powered, gas powered, CO2 and automatic electric guns (AEGs). An Airsoft gun admirer will often get involved in the hobby with an inexpensive, spring powered gun, which can be purchased for around $20 at Walmart, and a vast number of other outlets across the country. This is the most economical way to own an Airsoft, because after each BB is fired, the gun must be cocked before the next plastic BB is fired.
After playing with a spring gun for awhile, a better gun may be on the admirer's "must have" list. While there are several types of gas powered guns, the most popular are the Gas Blowback guns. The gas that is used to power the BB out of the gun also causes the gun to have a realistic blowback, or recoil. The Automatic Electric Gun is another category of Airsoft guns, and possibly the most exciting. This AEG, powered by an on board battery, creates the blast of air needed to propel the 6mm BB through the barrel of the gun. This system allows the gun to support the fully automatic features of most AEGs. That means that the rate of fire of these Airsoft guns are anywhere from 600 to 900 Rounds Per Minute (RPM).
Airsoft guns attract a group of males, aged 12 years to about 30 and older, especially the guns capable of firing 600 to 900 rounds per minute. These Airsoft guns come in all configurations of pistols and rifles. Some of the most popular are the machine guns. These guns are also 1:1 replicas. The suggested retail is $249.99 and the wholesale is $149.99. Most Airsoft guns have a 40 percent profit margin. Mason Distributing has Airsofts that wholesale for as little as $10 a unit. The best retail price range for Airsoft gun sales are the units with a suggested retail of about $200. Some Airsofts sell for as much as $500, but the magic price point seems to be $200.
According to Mason Distributing, what is interesting about selling Airsoft guns is that the retail location will often become a destination retail location, if the retailer carries a good selection of guns and Airsoft accessories. Another great benefit of selling Airsofts is that when someone takes up the hobby, they need at least one buddy to shoot at. That means another customer to fit out with a gun and other accessories. Another nice feature of Airsoft customers is that they will constantly need supplies & accessories for their Airsoft Guns, such as CO2, gas, BB's, and cartridges.
The more expensive Airsoft guns have so called "railing" on them, to install any manner of accessory items such as scopes. After shooting the Airsoft for just a little while, the typical user will want a scope, which range in retail price from a suggested list of $39, up to $199. Users constantly need BBs, which sell for $30 a pack, and many will want extra magazines and a tactical vest. Airsoft tactical vests retail from $40 to $90.
For more information:
Mason Distributing Company
PO Box 7146
Roanoke, VA 24019
Toll Free: 800-777-3977
Website: www.mason-distributing.com