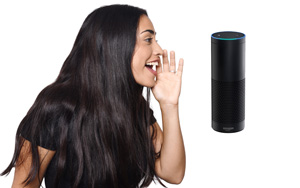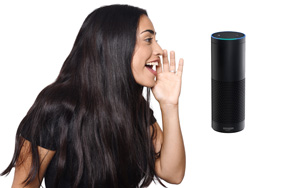 One in five U.S. consumers have used a voice-enabled device, such as Echo Dot or Google Home, to make a purchase. Just 20 percent of the population seems like a low number. However, the number of people shopping via voice has increased by more than ten percent over last year, indicating rapid growth.
More households, and by extension, more shoppers, are embracing voice technology in their homes. Ever since Amazon launched Alexa technology about four years ago, they have heavily campaigned to make Alexa a ubiquitous part of consumers' everyday lives. In addition to smartphones and voice assistants, Amazon launched Alexa-enabled microwaves, TVs, security cameras, and even fitness trackers. On every significant shopping day, such as Cyber Monday, Black Friday, and Prime Day, Amazon has deeply discounted Alexa devices, practically giving them away for free.
What Are Consumers Buying Via Voice?
The good news is, it seems unlikely that voice shopping will go mainstream for all product types. Forbes reports that household items are among those most likely to be purchased via a voice assistant device, followed by meal orders, groceries, electronics, and personal care products. Only a few people reported any interest in buying apparel or travel products through voice assistants. In other words, voice shopping is currently a threat to grocery stores and big-box retailers more than it is to fashion stores, boutiques, or gift shops.
What Should Small Businesses Do?
As voice technology becomes a dominant force, businesses need to make sure that voice assistants can easily find their information. For online businesses, this means creating an SEO strategy for your website and targeting relevant product keywords. Most ecommerce software platforms, such as Shopify, BigCommerce, Wix, WooCommerce, and others, have built-in tools to help manage SEO.
Alexa, Send Shoppers To My Store
As voice technology becomes more mainstream, it can impact the visibility of brick and mortar small businesses, too. For example, shoppers use voice assistants built into their cars while driving to find local gift shops or coffee stores. Others may use Siri on their smartphones to find a nearby toy store to pick up a birthday present. To stay discoverable, make sure that you register your business and keep updated information on Yelp, Google My Business, and Apple Maps.
About 20 percent of consumers are shopping for household suppliers with voice assistants. However, most of these purchases are coming from shoppers who are already likely making these purchases on Amazon. More people are using Alexa technology to perform online searches (47%), do basic research (35%), and ask for directions (34%). So, make sure you maintain accurate hours, contact details, and product information online. Alexa will be sending shoppers to your front door instead of stealing sales.