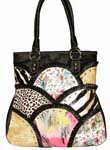 Orlando based handbag wholesaler, Aliz International, is committed to offering retailers the best and newest styles at reasonable prices, and company cofounder, Rosanna Tran, is especially proud of her latest offerings. "For spring, we've come out with a line combining our licensed products with high fashion, creating a whole new look for us," she says. "We've taken our Betty Boop, Elvis and Marilyn styles and given them a fresh update. These bags are so popular, they're now being sold in high-end boutiques," Tran notes. Aliz is also adding vibrant colors to its line. "Some of our best sellers are now available in pink, purple and lime green, plus lots of metallic colors," says Tran.
Aliz Handbags recently introduced Cell Phone Wallet, which Tran describes as the perfect accessory for nightclubbing. "It holds a cell phone, money, ID and a lipstick," she says. "It's the perfect size for a night on the town." The company now has a special package deal for retailers, just in time for Mother's Day, weddings, and graduation gift giving. "We're wholesaling some of our bags in sets, including an overnight bag, a purse and wallet all together," she says. As always, Aliz International offers a five percent discount for orders over $500, and 10 percent off orders over $1,000.
For more information:
Aliz International
11136 Satellite Blvd.
Orlando, FL 32837
Tel.: 407-438-8816
Toll Free: 888-BUY-ALIZ
Fax: 407-438-0122
Email: info@alizhandbags.com
Website: www.alizbags.com