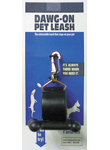 From Innovative Enterprises comes the "Dawg-On" pet leash, a lightweight, 1.3 ounce, automatically self-storing pet leash that delivers a four foot long retractable restraint, just when needed. No more running or hunting for the leash. The product comes packaged with an 18 inch collar (black leather, or green or red nylon), or as a clip-on model for an existing collar or harness (new and still in limited quantities). It is designed for mid sized dogs, and for cats, too.
The Dawg-On eliminates the continual snapping and unsnapping of a pet's leash when entering or exiting a vehicle, and is perfect for traveling or for instantaneous control of frisky animals. Pet owners will especially appreciate the ability to keep their dogs or cats from jumping on friends or bystanders; a real boon for greeting guests when they come to the door. Simply grab the clever doggie-bone handle for instant control. The leash will not dangle, trip the pet, or get caught in shrubbery, and the moderate tension it provides is ideal for training, encouraging the pet to "heel" to its owner. The convenient instant retraction prevents leash tangling or dangerous whip-back.
When not in use, the restraint remains snugly contained inside the housing, safe, clean and ready; unattended pets cannot chew on the leash, and there is no need to remove it at all, except for bathing. Your customers will never waste time searching for a lost leash again. Suggested retail price is $14.95 per unit. Wholesale prices range from $9 per unit for smaller orders (six to 11 units), down to $2.50 per unit for orders over 48 units.
An assortment of black leather and both green and red nylon collars will ship, unless otherwise specified. Clip-on style (without collar) must be requested. No displays are available at this time. Call for additional pricing details.
For more information:
Innovative Enterprises
1528 Payne Avenue
Saint Paul, MN 55130
Tel.: 651-774-7120
Fax: 651-774-7120
Email: fdelmeath@ieihome.us
Website: www.dawgonleash.com