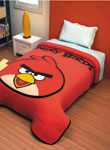 Angry Birds, today's hot video game, and Justin Bieber, the pop singing sensation, are the newest additions to a line of plush acrylic "mink" blankets from All That Jazz. Appearing just in time for the holidays, Angry Birds is available in two styles, and Bieber promises to be a hit with teenage girls in four styles, according to Anu Sahni, owner. All That Jazz's NFL and NCAA licensed blankets are also trendy holiday items, and the company carries all the teams. "The Pittsburgh Steelers blanket is the most popular year after year, regardless of rankings," Sahni points out. Among its blankets featuring well known artists, Elvis and Marilyn Monroe are consistently popular, especially for holiday gift giving. Other well liked licensed blankets highlight Disney, MLB, NBA, NHL, Harley-Davidson, Playboy and NASCAR. Soft and luxurious team blankets are 60 by 80 inches (twin/full size), and the other lines measure 79 by 95 inches (queen size). These plush blankets are made of polyester, acrylic, or a blend of both, and are machine washable and dryer safe. Twin/full blankets retail around $50, and the queen sells for about $60. Wholesale is generally half the retail price or less, depending upon quantity purchased.
All That Jazz also wholesales a vast array of other merchandise, including comforter sets, sheets, home décor, and women's apparel, and recently expanded its line of handmade Nepal imports. In addition to the company's popular Nepal purses, available in more than 130 styles, All That Jazz introduced Nepal jackets and hoodies in a huge variety of styles and sizes (small to 4X). "The Nepal jackets are hand loomed," explains Sahni. "They are selling extremely well, and we are now on our third air shipment."
All That Jazz requires a minimum order of $200, and offers volume discounts when retailers buy by the pallet or truckload. The company takes pride in going to the source of the product to provide exceptional value and quality. All That Jazz is committed to offering excellent customer service, shipping orders the same day received before 3 pm, and providing a pleasant shopping experience. In addition to purchasing online at the company's website, All That Jazz welcomes retailers to visit its home store in Sturgis, MI, where they can peruse the merchandise. The home store is just six miles away from the company's 160,000 square foot corporate offices and warehouse in LaGrange, IN.
For more information:
All That Jazz
1200 N. Detroit Street
LaGrange, IN 46761
Tel.: 260-585-8018
Website: www.allthatjazzonline.com