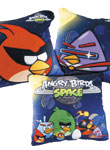 Angry Birds, a mainstream game made popular by its addictive gameplay and low price download, has seen a combined 700 million downloads (regular and special editions) across all mobile, pc and gaming console platforms. Among the latest downloads are the more than 30 million for the new Angry Bird Space Edition. Following the trend is Novelty Toys & Gifts Company, with its licensed line of Angry Birds Space characters featuring the now famous laser birds and intergalactic pigs.
Novelty Toys & Gifts Co. first got wind of the Angry Bird craze when more and more people were downloading the well known smartphone and tablet game. "Customers started calling us, asking if we had the characters available as toys. We made some calls and stocked up with everything we could get," notes Narine. "It's the hottest item we've carried in 15 years." To start, Novelty Toys & Gifts Co. carries about 15 different items in its Angry Bird line, wholesaling between $6 and $8.50 for a plush Angry Bird. Other items available include key chains, figurines, lanyards, backpack clip-ons, T-shirts, puzzles and baseball hats.
The Space Edition inspired merchandise is much the same. The newest characters can be purchased as plush products and featured on lanyards, drinkware, key chains, magnets and more. The majority wholesale under $10, and offer a markup of keystone or more. The new game app is expected to have 60 levels, with six brand new characters, and gameplay features revolving around a zero gravity setting. Angry Birds developer, Rovio, called it the biggest announcement since the original release. If you can find Angry Birds on your phone or tablet, or in space, you can most definitely find them in a retail store.
For more information:
Novelty Toys & Gifts Company Inc.
81 North Forest Ave.
Rockville Centre, NY 11570
Tel.: 516-561-1378
Toll Free: 800-648-4818
Website: www.noveltyposter.com