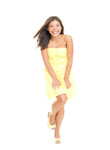 2013 women's clothing sales are expected to be up 9.2 percent over 2012, according to IBM analytics. The most popular time frame for consumers to spend money on apparel is the third quarter.
Leather is in and ornate prints are next. Cultural prints, including Nordic Fair Isle and Ukrainian floral embroidery, are expected to surge in popularity in 2013.
Expressionist prints, clothes that resemble paintings, may be as coveted as leopard prints were two years ago.
Bright colors and neon are selling now, but next year it will be grounded colors leaning towards slate gray, tawny caramel and midnight blue.
Neon will stay trendy as an accent for accessories.
What happens in apparel relates directly to the textile industry. Right now, textile manufacturers are focused on performance fabrics with alternative fibers to cotton. Fourty-four percent of consumers surveyed by the U.S. Department of Commerce say they are drawn to clothing that is environmentally friendly, such as organic, fair trade or American made apparel.