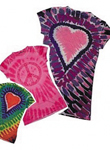 Retailers across the country are anticipating a brighter economic landscape in 2011, as the recent holiday shopping season showed. Leading the way is the wholesale and retail apparel industry, as shoppers shake off their blues and get ready to spend on feel-good items that they can wear immediately, which will mean increased traffic and business.
One of those looking forward to the challenge is Michelle Arcudi, the new owner and now director of sales and marketing at wholesale apparel giant, Madison Avenue Closeouts. Arcudi is no stranger to the looming challenges, having owned her own retail shop before buying the wholesale business last September. "When I ran my own store, there were only one or two vendors I really enjoyed working with," Arcudi recalls. "I had had so many run-ins with bad vendors, that when Madison Avenue went up for sale, I knew it was my opportunity to treat people the way I like to be treated. So I bought it."
Madison Avenue Closeouts sells to a variety of retailers, and is popular because it offers products in smaller lots, perfect for mom and pop stores and other independent outlets. "Where the original owner went after the larger stores, we decided to start making smaller lots, in 25, 50 or 100 piece lots," Arcudi says. "The customers have responded well to our efforts." Retailers are also responding to Madison Avenue's extensive line of designer and name brand wear. "Our NIKA dresses retail for $300 to $600, and we sell them for $68.75 each in an eight piece lot, totaling just $550," Arcudi says. "Our suits retail for $200 to $300, and yet we sell them for as low as $33 each," she adds. As mentioned, the groupings come in smaller lots so potential customers can try the items before committing to a larger order. "Our lot sizes for the suits range from six to 24 pieces in Misses/Petites, and six to 18 pieces in Plus Sizes," Arcudi says.
Asked to identify her best sellers, Arcudi notes that both Plus Sizes and children's clothing are very popular, followed closely by anything in designer suits and dresses, as well as both Misses and Petite sizes. "We also sell lingerie at great prices," Arcudi notes. "Berry Perry bra and panty sets are as low as $3.50 per set, and they retail between $21 and $22. Affinitas bra and panty sets are as low as $6.75 per set, and retail for $35 to $42." Madison Avenue Closeouts has no dollar minimum for orders, but rather sells by the lot. Plus, even though the company has tremendously discounted prices, it also offers a further discount by providing free shipping for new customers' first orders within the continental U.S., and a five percent discount for new overseas customers. Coming this spring, the company is thinking of expanding. "We get a lot of requests for women's clothing in Juniors sizes, as well as men's clothing," Arcudi says. "Whatever the customer wants, we'll try to get." She's quickly becoming the wholesaler she's always wished to deal with.
Even as Madison Avenue Closeouts begins to widen its appeal, the clothiers at SWAK (Sealed With a Kiss) Designs are laser focused on their target audience, plus sized apparel wearers. The Canoga Park, CA company, in business for about four years, fills a need that founder, Brad Capo, recognized. "The idea came from the women around him," says Sarah Sapora, director of marketing and business development at SWAK. "He saw there was a need for this niche to be filled." While casting about for a company name, Capo saw his mother plant a kiss on his daughter's cheek, and the company name was born.
SWAK has one driving thought behind its efforts, the idea being that fashion should be fun and accessible for any woman. "We help make good clothes affordable for all women," Sapora says. "Just because you're plus sized doesn't mean you have a lot of money to spend." The company's strongest sellers are dresses, particularly the "Veronica" style. "The Veronica comes in a really figure friendly shape for plus sized women," Sapora says. "Made out of lightweight fabric, it's a joy to wear. It comes in a nice print design, and has worked so well for us that buyers keep reordering it," she adds. Another popular style is the "Victoria," which is made like the Veronica but is shorter and with sleeves. Both dresses wholesale for around $34 and retail for $69 each.
There is a $250 minimum order from SWAK, but that can include any number of options. "You can buy any combination of sizes and shapes," Sapora says. "We try to offer everyone fine fashion that is price friendly and flattering to all women. Not everyone is able to stock expensive dresses," she says. Coming up in the spring, the company has some beautiful collections ready in classic, feminine shapes. "The 1970s bohemian style is coming back," Sapora says. "They're available in natural, earthy tones and vivid garden colors. They all drape, and are very figure flattering," she notes. SWAK Designs offers a variety of items in different sizes that are all price accessible. "So many women put off looking good because they're not in love with where they are in life," Sapora says. "We provide them with clothes they can afford, so they can look their best."
With most of the nation still in winter's strong grip, Ohio based YWeng Trading, Inc. has the apparel that retailers need to keep customers warm and coming back for more. Carrying between 1,000 and 1,500 items, the wholesaler is currently seeing strong demand for its extensive line of socks. "They're huge for us," says Shannon Miller, office manager at YWeng. "Our women's sock styles wholesale for about $2.75 a dozen and retail for up to $8 for the 12 pair," she adds. The company has a wide ranging line of footwear, including Toe Socks which wholesale for as low as 52 cents a pair and can fetch up to $3 at retail. The popular Fuzzy Socks wholesale for only 48 cents a pair, and retail for $1 to $4 a pair.
For those looking to keep warm a little higher up, YWeng carries a large number of hats as well. "We have them made to our level of standards," Miller says. "They're made with better stitching and quality than our competitors, and we carry more than 150 different styles." The company also offers a wide range of knit caps and facemasks to ward off winter's chill. "Our knit caps wholesale for $9 a dozen and can retail for $2 to $5 each, netting the retailer a nice return," Miller notes. "We also have hard to find items like wraparound fleece face masks that Velcro in the back," she says. "They wholesale for $1 each, and retail for $3 to $5 apiece." Keeping an eye on market trends, YWeng has also just launched a line of men's fedoras. "They're a great traffic builder with a nice return," Miller says. The hats can fetch anywhere from $5 to $15 retail, yet wholesale for as low as $1.75 each, depending on the style.
Shipping most orders the days they are received, YWeng Trading only requires a $100 minimum. "This way, retailers can try a small quantity at first and see how an item sells," Miller explains. Quantity discounts are also available, depending on the size of the order. Selling to dollar stores, flea markets and auction sites, YWeng Trading does the majority of its business over the web, but also makes some sales from walk-ins who visit the company's showroom at its Ohio warehouse. "We directly import a large majority of our own merchandise," says Miller, "so if we don't have what you want, we can probably get it."
Moving to the other end of the spectrum, Marc Herman, president of MDM International, can't wait for the warmer weather to arrive so he can roll out the latest looks from his company, Tye Dye Bonanza. "We carry about 15 different types of products, all in tie-dye," he says. "They include a full line of T-shirts, hoodies, onesies, tank tops, dresses, baby dolls and more." Indeed, the iconic look is enjoying a resurgence this year, and Herman and his customers are well placed to reap the benefits. "Most of our customers are flea markets, but we also sell to fairs and festivals, and about 10 percent of our business is to brick and mortar outlets as well," he says. "As our business is most active in the warmer weather, we cut back to shorter hours from November through February, but we're all ramped up now and fully stocked for the coming warm weather." Herman's been at this for about 15 years, and has perfected the craft into an art. "We got into tie-dye back in 1996," he says. "We had a link with people who did tie-dyeing, so that was our connection."
As it has been since the beginning, T-shirts are the company's biggest and strongest sellers. "They wholesale for $3.95 and retail for $12 to $20, depending on style," Herman says. "The price of cotton has gone up 40 percent in the past year, and it's hard to get right now, as there's a shortage throughout the industry, so our prices may be going up shortly. Anyone thinking of ordering from us might want to do so sooner rather than later," he adds. Tye Dye Bonanza's other offerings are also competitively priced. For example, tank tops wholesale for $4.50 each but can fetch $15 to $20. Hoodies retail for up to $25, and are available wholesale for only $10.75. "We also have a new offering that's taking off pretty well," Herman says. "It's called a, 'Sublimation Top.' It's a woman's sleeveless top, tie-dyed with either a peace symbol or heart, wholesaling for only $5.95, with retail of $15 and up." The company only requires a minimum 12 piece order to get started, and customers can mix and match whatever they'd like.  Conversely, discounts for large orders are available. "Folks just need to call us and we'll give them the details," Herman says.
For retailers looking for a more dressy line to offer customers, Just Simply Unique clothing wholesalers should be the first stop. Many women know that shopping for clothes can be a nightmare sometimes, which is what led Hella Denicola to open her clothing store and online site. "I was shopping a few years ago, saw my first 'popcorn' shirts, and really liked them, so I bought one and got a lot of compliments from family and friends," she says. "I liked it so much I thought, 'Why not sell them?,' so that's what I did." Denicola started out selling the shirts at a flea market, then went on to open a retail outlet and website, and is now working on her second store. "I sell to everyone," she says, "including high-end boutiques, specialty stores and flea market vendors." She also notes that she's getting tremendous traffic at her website, JustSimplyUnique.com, where hundreds of items are featured.
Denicola reports her most popular items right now are those in the minipleat and micropleat styles. "The fabric is very forgiving due to its stretchability," she says, "and is very flattering to all body types." Wholesale prices for the micropleats start at $12 for tops, $14.50 for skirts and $28 for jackets. Denicola says retail prices for the tops vary from $20 all the way up to $49, depending on the retailers' location and market traffic, and the skirts and jackets are selling for similar margins. Denicola says her minimum order is just one dozen, as she caters to smaller businesses and knows that everyone is watching their bottom line these days.
Just Simply Unique recently added a new offering to its line, called EZ-Care Travel Wear Apparel. "This line of EZ-Care Travel Apparel offers endless possibilities for mixing, matching and coordinating outfits," Denicola says. "Customers love that they're wrinkle free and easy to care for, as is all of our apparel. They're ideal for travel and perfect to wear to any occasion, from the office to a fancy night out on the town." The travel wear wholesales for $39 per dozen, with an MSRP of $10 and up per piece. The company has also rolled out some beautiful crush style tops, due to popular demand. "The elegant crushed design on these tops make them appropriate for anywhere, anytime. All of the prints match other pieces in our Crush or Mini Pleat Collections," Denicola notes. The crush style tops retail for $16.99 to $28.99, and wholesale for only $12 each.
Coming up, Just Simply Unique plans to offer special pricing on minipleat sets, consisting of matching tops, skirts, jackets and vests. "They're all color coordinated, so there are many ways to mix and match the pieces," Denicola says. "You can have a whole wardrobe of minipleat and crush fashion." Prices will vary, but the skirt sets, for example, will wholesale for $15.50 and retail for $22 to $38.
For retailers looking to carry a more unique offering, it's worth stopping by the online site of ProRider Leather, which manufactures and distributes customized motorcycle apparel. "We're also the supplying manufacturer of customized needs to motorcycle companies like Harley-Davidson, Honda and other bike dealerships," says Saleem Sheikh, owner of the company. "We also sell to retail stores, and are the suppliers of private label brands for a few select companies that have their own stores," he adds.
ProRider Leather just started offering a line of waterproof textile apparel. "The line is doing really well," Sheikh says. ProRider carries 17 different men's styles, 13 women's styles and four kids' styles of leatherwear, but the company's best seller by far is it's, 'Winner Jacket.' "It's a cruiser type jacket with lots of features," Sheikh says. "It has a large front access pocket, air vents, and memory-foam armor on the back and shoulders. It has all new features, but offers a vintage look," he notes. The Winner wholesales for $125, but can retail for as much as $269. "It's a top of the line jacket, with 1.4 mm thick leather," Sheikh says. "It combines both thickness and softness."
Interested buyers can see the company's full lineup at ProRiderWholesale.com. Wholesale prices can start from $40 and go up to $150. "Retail pricing is over a 100 percent return," Sheikh says. "For example, a $40 wholesale jacket can go at retail for $110 or $120." The company requires a $300 minimum order for new customers, and repeat buyers can then purchase individual pieces. Display racks are also available for a very reasonable $65, each one holding 20 pieces of merchandise.
Not content to just sit and idle his engine, Sheikh is coming out with a new jacket this spring, made of 100 percent waterproof cotton duck. "It comes in either blue or black," he says, "wholesaling for $69 and retailing for $150." For orders of $5,000 or more, ProRider Leather provides free shipping, and buyers placing these orders also receive a 10 percent credit toward their next purchase.
The following were interviewed for this article:
Madison Avenue Closeouts
2324 Ebenezer Road, Suite B
Rock Hill, SC 29732
Tel.: 803-327-1304
Toll Free: 866-795-7990
Website: www.madisonavenuecloseouts.com
SWAK Designs
21216 Vanowen Street
Canoga Park, CA 91303
Tel.: 818-888-3800
Toll Free: 866-432-6497
Website: www.swakdesigns.com

YWeng Trading
4770 Navarre Rd. SW, Unit B
Canton, OH 44706
Tel.: 330-479-9950
Website: www.wholesalecentral.com/ywengwholesale

Tye Dye Bonanza
10875 NW 52nd Street, Suites 6 & 7
Sunrise, FL 33351
Tel.: 954-739-1728
Toll Free: 888-737-9722
Website: mdmintl.com
Just Simply Unique
Auction Bazaar
16242 U.S. 19
Hudson, FL 34667
Tel.: 813-843-4983
Website: www.justsimplyunique.com
Pro-Rider Leather, Inc.
103 W. Roosevelt Road, Unit A
Villa Park, IL 60181
Tel.: 630-424-9600
Toll Free: 877-776-7433
Website: www.proriderleather.com