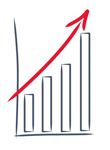 Gas pump prices, as high as they've been in the first quarter, appear to be counter-balanced by payroll increases. According to a Bloomberg report, "Payrolls grew by 244,000 last month, the seventh straight monthly gain, after increasing a revised 221,000 the prior month…" Although regular fuel averaged $3.81 a gallon in April, consumers back on payroll and receiving a consistent paycheck were willing to fill their tanks and invest in a little shopping, supporting previous predictions.
It was previously reported on blog.wholesalecentral.com that while rising gas prices have resulted in some changes in consumer behavior, it did not appear to have affected discretionary spending just yet. "With overall spending, it doesn't look as though higher gas prices are having too much of a negative impact," Michael McNamara, vice president of research and analysis for SpendingPulse explains. What's more, some areas of retail spending, like ecommerce, can benefit from rising gas prices, McNamara notes. In fact, online sales continued to show double-digit growth, rising 16.1 percent, the highest rate seen since December 2010.
Retail Results for the Month of April
Retail Metrics, Inc., reports, "More hiring helps explain the better-than-forecast retailer results for April. Sales at stores open at least a year (same-stores) rose 8.7 percent from the same month last year, the 20th straight gain." It is also speculated that retailers benefited from the late Easter holiday, as the pre-holiday shopping surge experienced late March last year was seen in April this year. Yet, as the Financial Times online quotes David Bassuk, head of retail practice at AlixPartners consultancy, "We continue to see consumers responding to value and promotions. They want the deal." Those retailers marked as top performers of April, with the most sales not necessarily the highest profits, were those who offered aggressive low-price promotions, at the cost of narrower profit margins.
Nonetheless, the recent decrease in crude oil prices retailers are hoping for a continued increase in sales and wider profit margins for the months ahead.