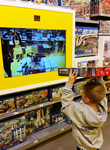 Kids are always after the newest and shiniest products they spot in advertisements or stores. Augmented Reality, technology that combines computer-generated images and a user's view of the real world, is catching the eye of both children and parents alike. Some of the toys in this exciting new market are additions to big name toys while others are emerging companies. Augmented Reality (AR) is being used as an added bonus to already popular products and creating brand new toys.
Big Names
Manufacturers that already have a large following are incorporating AR into their toys. One of these companies is Lego®. Lego® came out with packaging that has an AR code on it, which, when scanned using an app, displays the finished construction. PlayStation3 uses a motion-sensing controller to scan AR codes on a physical book and then displays the book on the user's television. The display will move when the reader moves the book, as well as display animations on-screen based on the AR code it scanned. These are just a few examples of the many companies using AR to enhance their toys.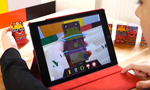 Educational AR
It's always been hard to get kids to focus on learning rather than play, but augmented reality allows children to become engaged and learn by using their surroundings. One new AR tool, Blippar, is an app which uses the device's camera to identify objects and provide information about them. Another gadget is The Virtuali-Tee, a t-shirt with AR scanners resembling a rib cage. The user can open an app that will scan the AR codes on the t-shirt and look inside the human body. AR is a fun new way to allow kids, and adults, to see and learn new things in their everyday life.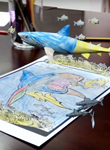 Coloring in AR
There are a lot of companies using augmented reality to enhance coloring. One company, QuiverVision, allows kids to color a page and then scan a code to make their drawing come to life. What makes this particular coloring book special is that it offers games the user can play with their colored image as well as educational quizzes. The app also shows the person coloring the picture in real time and exactly replicates the marks made on the paper. Other coloring book providers offer similar features and there are sure to be more developments made in this category.
SwapBots
SwapBots, scheduled to be released this year, are one of the most anticipated AR toys. Interchangeable parts of a physical toy can be swapped out and then scanned to be displayed on a device. The user then plays games with other SwapBots through the use of AR. This toy allows kids to play in both the real and augmented world with their toys and is sure to grab the attention of many children when released.
Whether it's coloring or scanning everyday objects, augmented reality is becoming a popular tool to both entertain and educate children. Many toys are still in production stages, but there are sure to be more developed in the coming years.