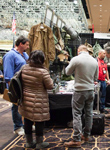 The Army Navy Military Expo will return to the Rio Hotel and Casino January 21 – 23rd, 2018. "After a record-setting 10-year anniversary show this past summer, many new exhibitors have signed on for ANME Winter 2018," says Kyle NacNall, director of sales and operations for ANME. "Buyers can expect to find dozens of new exhibitors with the latest tactical gear, hardware, patriotic apparel, flags and emblems, footwear, outerwear, and of course," continues Kyle, "genuine and hard-to-find military surplus." Retailers and buyers can also expect to see all of ANME's regular exhibitors, many of which have been with the company since the very first show.
Though ANME is a one-of-a-kind resource for retailers looking for military surplus, the show has deals on products for all retailers. "In fact, military surplus only makes up about 25 percent of all exhibitors at the show," says Kyle. "Many buyers come from boutique clothing stores, antique shops, hardware, sporting goods, and gun stores."
ANME offers a wholesale order writing experience like no other show. There are no consumers walking the floor, so dealers are able to meet directly with the exhibitors and write orders that day. "Exhibitors bring deep show discounts and display the latest gear," says Kyle. "If you are looking to make strong profits on clothing, outdoor, self-defense, hardware and more, ANME is the show."
Kyle and his team are expecting another sold-out show this January, and expecting attendance to continue to increase. Visit www.anmexpo.com to register and view a complete exhibitor list including booth numbers and a floor plan. Retailers can also sign up for email updates to get all of the latest show information.