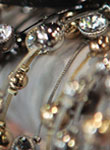 The ASD Las Vegas consumer goods trade show runs Sunday, August 4, through Wednesday, August 7, at the Las Vegas Convention Center. The show brings together the world's widest variety of merchandise in one event, making it easy for retailers to shop for their stores. Loaded with quality choices at every price point, this well-established trade event continues to grow, attracting approximately 45,000 attendees and hosting buyers from over 88 countries.
Retailers will find a broad array of merchandise in six categories: Gift & Home, Fashion Accessories, Jewelry / Cash & Carry, Health & Beauty, Value & Variety, and Toys & Novelties. More than 2,800 vendors showcase their newest offerings to every retail market segment and distribution channel. Retail buyers include mass merchants, independent specialty stores, convenience stores, department stores, hotels and resorts, carwashes, airport gift shops, dollar stores and others.
New to ASD Las Vegas is SOURCEDIRECT, a comprehensive sourcing show that will showcase more than 250 manufacturers, from countries such as China, India, Republic of Korea, Taiwan-Republic of China, Africa and Mexico, that produce Fashion Accessories, Housewares, Gifts & Toys, Apparel, Holiday and Seasonal merchandise, Souvenirs & Novelties, Consumer Electronics, Bedding & Bath, Health & Beauty products and General Merchandise of all types. The show will run concurrently with ASD Las Vegas and offer volume buyers, such as larger retailers, importers, distributors and wholesalers, the opportunity to meet face-to-face.
Held twice annually, ASD Las Vegas is the largest and most comprehensive trade show of its kind. Now more than ever, with the addition of SOURCEDIRECT, ASD Las Vegas is the marketplace for every distribution channel, large and small, and retail market segment.
For more information:
ASD
6255 W. Sunset Blvd, 19th Floor
Los Angeles, CA 90028
Toll Free: 800-421-4511
Direct: 323-817-2200
Website: www.asdonline.com