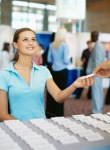 The ASD Show returns to Las Vegas February 27 through March 2, attracting 40,000 to 50,000 attendees with buyers from all over the U.S. and overseas. According to show organizers, in 2010 this number included buyers from 88 countries, with attendance from Latin America alone rising 13 percent. Trade buyers can register for free before February 27. Show hours are 9 a.m. to 6 pm, with the event ending at 4 pm on March 2.
This year, ASD Show exhibitors will be grouped into four general categories; three located at the Sands Expo Center, and one at the Las Vegas Convention Center. More than 900 exhibitors in the "Value and Variety" category will be based at the Las Vegas Convention Center South Hall, offering closeouts, prepackaged pallets of new and overstock merchandise, and opportunity buys. The featured product categories in this section include General Merchandise, Camping and Outdoor/Sporting Goods, Military/Tactical/Personal Security, Electronics and Accessories, Apparel/Hosiery/Footwear, Tools and Hardware/Lawn and Garden, Food/Candy/Snacks, Housewares, and Home Textiles.
The Gift and Toy category will attract 500-plus suppliers to the Sands Expo Center Lower Level, located just next to buyer registration. Featured product categories include Candles/Aromatherapy, Holiday/Special Occasion, Collectibles, Decorative Accessories, Crafts, Religious, Dolls/Figurines, Gift Shop Souvenirs, Novelties, Seasonal, Giftwrap/Giftbags, and Stationery/Cards. The Sands Expo Center Upper Level will host the Jewelry category, with more than 300 exhibitors, as well as Style and Beauty. Featured products there include Fine Jewelry, Custom Pieces, Diamonds, Engagement Rings, Estate Jewelry, Gold, Loose Gemstones, Luxury Timepieces, Wedding Bands, Fashion Jewelry, Accessory Sets, Beads, Body Jewelry, Fashion Timepieces, Sterling Silver, Youth-Oriented Jewelry, Fashion and Accessories, Health and Beauty Aids, and Travel Accessories.
Free shuttle service will offer transportation between the Sands and Convention Center locations. Buyers who do business primarily at the Convention Center may want to take a shuttle over to the Sands for the ASD Show's seminar series. As in the past, the show features a range of educational seminars that offer action-oriented tips and tactics to boost retail business. Two seminars focus on boosting business online through ecommerce sites and marketing, while others are on direct mail campaigns, building foot traffic, increasing staff effectiveness, and merchandising. For more information on the seminars or the show, call (800) 748-5058, Monday through Friday, 9 a.m. to 5 pm EST, or visit the show online at asdonline.com.
Seminar Schedule: Monday, Feb. 28, 2011
Taking Your Retail Business Online (10:30–11:30 a.m.): Learn how retail storeowners can benefit by expanding into online sales using eBay, Amazon, and Facebook. The seminar compares all three venues, explains the investment of time and money involved, and what it takes to get started.
Strengthening Your Website Through an Integrated Marketing Plan (12:00–1:00 pm): This seminar addresses the necessity of a well designed, innovative website, and how to properly market it through a hands-on approach of planning, analysis and optimization. It will cover SEO and PPC tactics, ecommerce strategies, and social media.
Direct Mail Crash Course — Everything You Need to Know About Direct Mail (1:30–2:30 pm): Get the fundamentals of direct mail marketing, with tips you need to start doing effective campaigns immediately. Learn how to target the right market, capture your recipients' attention, and write copy to get response.
Seminar Schedule: Tuesday, March 1, 2011
The Foot Traffic Formula — How to Keep the Doors Swingin' and the Registers Ringin'! (9:00–10 a.m.): Learn the four elements that combine to get more customers in the door. Includes tactics to attract more customers, give them a first experience that makes them want to come back, and proactively generate repeat visits.
Turn Your Staff Into a Service Driven, Selling Machine! (10:30–11:30 a.m.): This fun, interactive workshop focuses on practical, proven customer service and sales strategies, tips, and tricks to boost your store's sales while providing exceptional service. Includes six powerful words that help discover what your customer really wants.
Terms of Endearment [in Retail] (12:00–1:00 pm): How to recognize shopping patterns to maximize sales potential, the five truths about markdowns and how to get them under control, and how to be an investor in merchandise. Covers key financial tools and a range of merchandising concepts.
Direct Mail Crash Course: Repeat of seminar given Monday at 1:30.
Strengthening Your Website (3:00–4:00 pm): Repeat of seminar given Monday at noon.