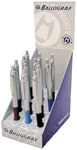 The Ballograf pen line has been produced in Sweden for the past 60 years. The ballpoint pens and mechanical pencils are produced in the city of Göteborg (Gothenburg). At a highly automated plant, four million pens a year are manufactured by 30 employees. About half of the production is sold in Nordic countries. The hallmark of Ballograf is that it is an extraordinarily high quality line of pens, sold at an inexpensive retail price. Its North American distributor, Nord Mark Inc., has been selling the product for over 20 years, supplying Ballograf pens to many gift shops and retailers throughout the U.S. and Canada. Nord Mark also sells the pens, refills, accessories via the Internet.
The Ballograf pen's writing characteristics result from the use of the best materials available. The ball is made of tungsten carbide. The point, which houses a ball, is made of stainless steel, to withstand the wear from the millions of rotations of the ball during the life of the refill cartridge. The ink in the cartridge is approved for archival use per the most stringent requirements, and the ink is also acid free. Ballograf products are covered by a lifetime warranty.
Retail pricing is typically two times the wholesale price, and the company offers four lines of pens, including the Opus, Rondo, Epoca and Nordica. For example, the Rondo, with chrome trim, has a wholesale price from $3.95 to $4.95. Each set of pens comes with matching pencils, and the Rondo pencil wholesales for $4.95. There are gift boxes available, or the pens can be displayed in blister packs. For orders over $100, there are two free retail pen displays. The company also offers a line of leather notebooks with 120 sheets and a circular holder for a Rondo pen. The wholesale price is $15.95 and suggested retail is $29.95, with no minimum order.
Ballograf in Sweden will also do imprinting. Pricing for imprinted pens includes a setup fee of $45. The imprinting cost per surface and color varies, depending on the quantity. For text and/or logos with multiple colors, there is a minor cost for each color and each different imprinting. A typical cost is around 25 to 30 cents per pen, in color.
For more information:
Nord Mark Inc.
12075 48th Avenue N.
Minneapolis, MN 55442
Tel.: 763-383-1118
Website: www.nord-mark.com