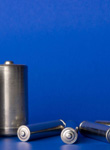 As consumers flock to local stores in search of the coolest buys of the holiday season, they reach for the most cutting edge electronics, spurring another solid selling trend, the household battery. "You can't buy an electronic these days without using batteries," says Cody Grandadam, president and co-owner of Promier Products, generic battery distributor and LED light wholesaler. A solid 75 percent of Promier's battery sales occur during the last quarter of the year. The sudden and predictable surge in interest increases each year as consumers become more and more invested in battery powered devices, and Promier's sales show this year is no exception.
During previous holiday seasons AA batteries sold the best, and they continue to do so. Grandadam has noticed recently that AAA batteries are catching up as electronic devices are being made smaller. As a result, Promier Products has two best selling products, and the company carries a full range of household batteries. "Everyone uses them," Grandadam points out. "They're a commodity these days, one on which most end customers are looking to save money. If your competitor across the street is carrying the same basic product at a lower price than your name brand batteries, you aren't bringing any value to those customers." Rechargeable batteries are the only type that isn't trending as noticeably, because they fail to deliver the instant gratification of simply switching out dead batteries, and they have a higher price tag. The average customer continues to reach for the best price alkaline product.
For a minimum order of one case, customers can purchase batteries for $0.60 to $1.30 per pack. "Shoppers who mention the Promier Products ad will receive a blowout price," Grandadam assures. Retail pricing is suggested as 100 percent markup, which brings the battery price point about 25 percent below that of national brands on average. Even at a lower price, generic batteries, provided they are alkaline, deliver the same quality power as their brand name counterparts, according to a study conducted by the Worcester Polytechnic Institute. Since a growing number of end consumers are aware of this level playing field, the buying trend of generic alkaline batteries continues to gain traction.
For more information:
Promier Products
304 5th Street
Peru, IL 61301
Tel.: 815-223-5877
Website: www.promierproducts.com