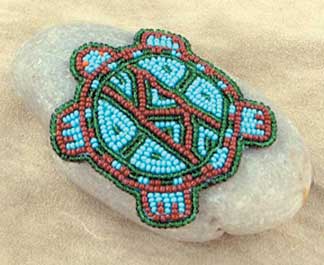 The Line: This company supplies more than 1,000 different jewelry and accessory items made of tiny, colorful seed beads. The designs are exclusive to Wholesale Beaded, and the jewelry and accessories are made by hand in a family owned factory in India. The designs encompass all kinds of jewelry, including necklaces, bracelets, anklets, earrings, decorative belts for belly dancing, and many Native American styles of jewelry, hatbands and belts. There are also beaded barrettes, buckles, coasters, eyeglass holders, lanyards and other exclusive designs. The company is also able to make custom patterns and/or color choices for bulk quantity orders.
Literature: A catalog is available free to retailers on request. However, all items are also shown on the company's website, which includes wholesale pricing for minimum order quantities. Volume discounts are offered on larger orders. The website is continuously updated to include new items, and email alerts about new items are sent to retailer customers.
Minimum Order/Pricing: The minimum order is $100, and can include a mix of anything, including single items. The wholesale cost for earrings begins at $1 per pair, and all, including elaborate drop style designs, wholesale for less than $5. The suggested retail price is about $6 to $10. Bracelets wholesale for $2 to $4, and the suggested retail price is typically three times wholesale. Hatbands, for example, wholesale for $4 to $5, and the suggested retail price is $15 to $20.
Special Features: If any item doesn't sell, the supplier will take it back for either a full dollar return or credit, or for a replacement item at full price. Current best sellers are featured on the website.
Management Says: "We have been in the business of designing and manufacturing seed bead jewelry and accessories for the past 12 years, and we entered the U.S. with our exclusive designs in 2006. Because we own the factory, we maintain strict standards of quality control, and at the same time, are able to keep our prices low to ensure retailers healthy profit margins." -Rich Gupta, an owner.
Beads Corner
D/ba Wholesale Beaded
13644 Cedar Run Lane, Ste. 101
Herndon, VA 20171
Toll Free Tel./Fax: 888-278-3889
Website: www.wholesalebeaded.com