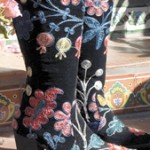 Auster Studio offers a magnificent line of boots called, Erkan Demir. Erkan Demir is the designer and creator of the velvet embroidered boot. The patterns, tribal by nature, were born hundreds of years ago and are now applied to fashionable women's boots. They come in several heels, including Cowgirl, European, Cuban and Flats. Colors run the full range: black background with bright colored floral prints, corals or turquoise tone on tones, and all hues in between. The handmade boot is lined in soft goat leather and covered in heavy, one hundred percent cotton velvets.
The velvets are then embroidered with silk patterns. Using treble machines, they create a looser freer stitch, for a more artistic appearance. As unique and beautiful as the boots are, they are just as comfortable. Goat leather is soft and pliable, and contours to fit each individual foot.
Erkan Demir boots wholesale for $165 and have a suggested retail of $265 to $350. Minimum order is one dozen pair.
For more information:
Auster Studio
2405 Laguna Canyon Road
Laguna Beach, CA 92651
Tel.: 949-494-9525
Website: www.kenauster.com