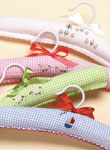 Once a citizen of South Africa, Cathy Deale, president of Jacaranda Living, was inspired to bring hand embroidered products of the Zulu women to the U.S. market. Armed with a basket and some samples from her South African friends, Deale walked into a few shops in Boston and received her first order for hand towels and more. "I was even more delighted when these shops called to reorder," she adds. Since its launch in 2004, Jacaranda Living has expanded its South African inspired and manufactured product lines to bed and bath linens, ladies cotton sleepwear, and even embroidered baby clothing. "Most of our products continue to be made in South Africa, but we are also looking to collaborate with manufacturers in India and China as well," notes Deale.
Among the expanding lines is a product that stood out and was a great success at this year's New York Gift Show, the waffle weave bathrobe. Available plain or with an embroidered Bee Wreath, this bathrobe was inspired by Jacaranda Living's guest towels, the company's signature product line. "We use a mid-weight pure cotton waffle with a 'bumpy' weave, which increases its absorbency," explains Deale. "It makes for a luxurious bathrobe without being too thick and heavy." Adding the classic Bee Wreath, the company's most popular embroidery design, has helped distinguish the bathrobe from others on the market.
Retailers and their customers will be thrilled to find such quality fabric and workmanship comes at a good price. The Bee Wreath bathrobe wholesales for $36, while a plain waffle weave robe wholesales for $34, retailing for $81 and $77 respectively. Wholesale orders require a $250 minimum, and there are quantity price breaks on some items, such as guest towels and tissue box covers. Volume discounts on bathrobes are available on request. "Our products are perfect for retailers looking for something a little different, and we are a niche brand. We offer a wide variety of designs and products which stores can custom order, or order for immediate delivery from our inventory. The bathrobe featured is a stock item and can be shipped within 24 to 48 hours," says Deale.
For more information:
Jacaranda Living
177 Worcester Street, Suite 303
Wellesley, MA 02481
Tel.: 781-416-3533
Website: www.jacarandaliving.com