Mother's Day is here! American consumers are expected to spend over four billion dollars on jewelry for mom, averaging about $96 per shopper. A total of almost 85 percent of consumers nationwide plan to celebrate Mother's Day. Matthew Shay, president and CEO of the National Retail Federation says of the holiday, "It's clear that Americans want to honor their mothers …whether it's a special meal at her favorite restaurant, jewelry or a new smartphone, families are planning to indulge mom."
Bella Joias, a family-owned multi national jewelry manufacturer, wholesaler, and retailer tells Independent Retailer that Mother's Day season is one of their busiest times of the year. They specialize in gold-layered, silver-layered, and stainless steel jewelry. Gold and silver layered jewelry is considerably more affordable than solid gold or silver, but still maintains a high quality, durable appearance. Unlike gold plating, which can chip or fade away over time, gold layering can last a lifetime. These economical, yet beautiful and practical jewelry options are popular customer choices for Mother's Day, when family members of all price points are looking to treat mom.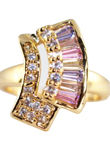 Throughout their 30 years of operation, Bella Joias has maintained a commitment to producing high quality and fairly priced jewelry that is also hypoallergenic and safe for sensitive skin. In addition to their popular gold and silver plated jewelry, Bella Joias also sells full lines of cubic zirconia, rose gold, rhodium, and gold pieces.
Though all products are manufactured in Brazil, Bella Joias is a U.S.-based company. Order minimums start at $200 and are typically prepared within one or two business days.