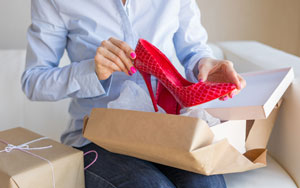 Returns have always been a sore spot for retailers, especially right after the holiday season. With the surge in online shopping that was brought on by the pandemic, refund abuse is becoming an even bigger concern, and experts predict this issue will only continue to grow.
According to Atlas VPN, more than $1 trillion was lost in the world due to cybercrimes in 2020, and Jane Lee, Trust and Safety Architect at Sift, expects that number will increase by the end of this year. Jeff Wixted, VP of Marketing & Client Solutions at Accertify, offers some key factors as to why this refund abuse problem is not going away anytime soon:
Growth in ecommerce. More and more goods are being purchased online and delivered to individual households. With increased volumes, it can be easier for fraudsters to hide and equally more difficult for retailers to detect.
1st Party Fraud. It is very difficult to discern 1st Party Fraud at the time of purchase as the "true" customer is making the purchase. Ultimately, this type of attack is not carried out at the time of purchase, but rather upon receipt of the goods.
Competitive retail environment. Many customers consciously decide where to shop based on a retailer's refund/return policies. As a result, it is a delicate balance to have a customer-friendly policy while also protecting from abuse and fraud.
What to Look Out For During the Holidays
Bad actors are known to game the refunding process by either falsely claiming that they never received a shipped item, trying to return a stolen item, or "returning" an empty package, according to Lee. "Retailers should also be prepared for buy online, pickup in-store fraud. BOPIS shopping has soared since the start of the pandemic, which in turn makes it an attractive method to exploit for fraudsters. Because merchants cannot leverage the buffer time between an order being placed and shipped to validate a transaction or rely on traditional indicators like a mismatch between a billing and shipping address as they would with a normal online order, it is easy for BOPIS fraudsters to go unnoticed. To mitigate this challenge, retailers need to look to other forms of data to understand their customers' usual behaviors and spot telltale deviations," Lee said.
Apparel and electronics are some of the biggest targets for fraudsters, and the increase in transactions during the holidays only provides more cover for bad actors to fly under the radar, according to Lee. Fraudsters are also seeking higher-value purchases. Sift recently uncovered a 69 percent year-over-year increase in the average value of attempted fraudulent purchases, with some of the biggest targets including designer brands and new electronics.
How Can Retailers Combat Fraud?
"One of the main issues with refund abuse is that so many merchants do not know the true size of refund fraud within their organization, so it is important to start monitoring and measuring," Wixted said. "The fraud prevention teams should work with customer support and service teams to track how many refund requests are coming, especially on large dollar items. Any time these requests are made, make sure they are logged so they can start to analyze which customers have had multiple claims. The first step is always to measure the size of the problem, and from there, merchants can determine the true impact and how best to mitigate the problem."
If your business does not have a dedicated fraud prevention team in place, Lee suggests starting by adopting a Digital Trust & Safety strategy — one that dynamically addresses fraud while creating a more seamless experience for legitimate customers. Traditional manual review processes, such as caps on order volumes and values, are not equipped to detect fraud during high-traffic periods. Instead, they are stopping legitimate transactions completely or creating friction within the customer journey. By implementing a Digital Trust & Safety approach and technologies, such as machine learning, retailers can better defend against fraud this holiday season at scale. Ingesting thousands of different signals beyond purchase data, machine learning systems can quickly adapt to detect suspicious activity in real-time without human intervention.