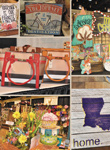 Press release
The Biloxi, Mississippi Wholesale Gift Show will be held January 27-29, 2018 at the Mississippi Gulf Coast Coliseum and Convention Center. Buyers attending the Biloxi Wholesale Gift Show will experience over 250 booths with manufacturers from over 20 states and a huge selection of new and trendy merchandise including apparel, floral, holiday, home décor, gourmet, souvenirs, jewelry, gift wrap and much more.
"We have exhibitors from all over the United States — California, Virginia, Michigan, Washington, Maine, New York, but we also have many from Mississippi and surrounding states like Louisiana, Alabama, Florida, Texas and Georgia. Lots of buyers and exhibitors like to come to the show and enjoy the relaxed atmosphere of the south. A bit of a mini-vacation," says co-owner and promoter Jim Haskin.
Buyers are drawn to the shows by the fine product selection, convenience, and the strict adherence of a wholesale only policy. Says Pam Haskin, "We are a legitimate wholesale show. Most retailers vigorously object to cash and carry sections. The buyers know we are a credible gift market."
Buyers can also take advantage of the personal service and convenience of a smaller show. "A retailer's time is very precious and limited. They want to maximize their buying time while finding unique, profitable selling products and we try to help them do that," said Pam Haskin, co-owner and promoter of the market.
Business is booming on the coast! Buyers and Exhibitors will enjoy discounted rates at The Palace Casino Resort, the only entirely smoke-free casino on the Mississippi Gulf Coast. Market hours are Saturday and Sunday, 9:00 a.m. to 5:00 p.m. and Monday, 9:00 a.m. to 2:00 p.m.
The Biloxi Gift Show is strictly a wholesale market, open to qualified retailers only. A retail sales tax permit and additional credentials are required. For more information, contact Pam Haskin at 800-951-1994 or biloximarket@gmail.com. To see photos of the show and to keep up to date with the latest news, follow us on Facebook at www.facebook.com/biloxigiftshow