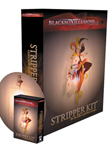 We've all seen magicians on TV or in live shows, pulling off amazing illusions and leaving everyone wondering, "How did they do that?" Now, for the first time, Future Lines, Inc., parent company of BlackBox Wholesale, is offering a complete line of magic and illusions that anyone can learn and master. Given the growth and popularity of illusionists David Blaine, Criss Angel, Penn & Teller and others, it's no wonder that demand is high for "how-to's" of this ancient art.
"This all started with some friends who were street performers in Japan," says Yaniv Gross, Client Relations Manager of BlackBox. "They were doing old routines and mind teasers at festivals and street fairs, selling the original versions of what eventually became the BlackBox line." Gross saw the potential in the products four or five years ago, and the concept was brought to the U.S. in 2007: Magic that is available to the masses. "The biggest knowledge database of magic is here in the U.S.," he insists. "But our product stands out because it's not designed for professionals; it's designed for any layman who likes to use his brain, to find a new hobby, or to make a great gift for someone," Gross says. "We like to think of it as 'Magic and brain teasers for Dummies'."
Gross is one of those fortunate people who gets to do what he loves for a living, and his enthusiasm for his products is infectious. "Every 'routine' we sell (and please don't call them 'tricks') gives the desired effect," amazing and delighting audiences, he says. His company started small, with a kiosk at an indoor mall in San Diego. But Gross knew very quickly he had a hit on his hands. "From Black Friday in 2007 [the day after Thanksgiving] until Christmas Eve that year, we did more than $100,000 in retail sales," he says. "We didn't even have the full line back then; just the Levitation Kit and the Black Box, which is a complete starter kit for magicians."
Flash forward to the present, and BlackBox Wholesale describes itself as "Redefining the Impossible." That's not far from the truth. The company started out as a group of six entrepreneurs, "Who passionately dedicated themselves to bring customers nothing but perfect quality products," Gross says. Working hand in hand with their own production team, BlackBox strives to put what is described as, "breathtaking concepts inside amazing packaging." And it seems to be working.
"When someone buys one of our products, they get everything they need to be successful," Gross says. Each package comes with its own professionally produced DVD showing how to do the routine, a booklet explaining the steps, and the product itself. Best of all is the profit potential. "Retailers are seeing anywhere from a 700 to 1,500 percent markup," Gross says. For example, the Levitation Kit, which retails for $49.95, is available at a wholesale price of $5 to $6 each. "Whether it's money, cards, IDs, credit cards, rings, or coins, you can take any object and instantly make it float in mid air. No one can pass by and ignore it," according to promotional copy for the Levitation Kit on the website, BlackBoxWholesale.com.
The "Déjà Vu" routine, which wholesales for less than $5, retails for $40. And the complete Black Box kit wholesales for between $13 and $15, depending on quantity, and retails for $149. The company also offers discounts for quantity orders, which usually ship the same day if received before noon. First time orders ship within 48 hours, and pricing is available on request.
More and more retailers are signing up to carry the BlackBox line, in part due to the easy to follow instructional DVDs included. Produced and filmed in a multi-continent environment (Japan, U.S. and Europe), each guide in the series includes a collection of eye catching illusions. BlackBox also offers strong support for retailers right out of the gate. The company offers point of display signs and materials, as well as illustrative videos that show the illusions, accompanied by the screams of a delighted audience.
In addition, the company offers experienced trainers who will come to the retailer's location and teach employees how to demonstrate and sell the product. These are independent contractors who work on a percentage of sales. "People appreciate them, and our retailers ask for them when they expand their locations," Gross says. He adds that numerous gift, novelty, book and magic stores are currently carrying BlackBox's line, and these numbers are growing due to popular demand and word of mouth marketing from satisfied customers.
"It's a perfect setup for retailers," Gross says. "Our product gives you the opportunity to expand." Gross explains that the kiosk operator draws traffic by displaying the line, and trained salespeople demonstrate the various 'routines.' Once a sale is made, friends who see the magic for themselves want to know more, and come looking for it. Those who already purchased it come back, wanting to buy more. The company even includes a coupon with each product, good for a discount on a future purchase.
There are a number of reasons for the phenomenal success of BlackBox, and the company lists ten of them online as to why kiosk operators may want to start their own BlackBox location.
Among them:
• It's a New Concept
In a market where too many retailers are carrying the, "same old, same old," the BlackBox line is a unique offering that draws crowds wherever it's shown.
• Holiday Favorite
For the person who has everything, an illusion from BlackBox that they can master in a short time is the ideal gift.
• Customers are Drawn In
The company provides distinctive "The Black Box" signage, and sales agents wear t-shirts that read, "Can You Keep a Secret?" Add in screams of amazement coming from your TV screens playing the illusions over and over again, and customers will be entranced.
• Easy Training
The BlackBox is about to launch an online training seminar, so your employees can get up to speed fast on how to demonstrate the various illusions.
It goes without saying that these kits sometimes need a demonstration to facilitate a sale, and BlackBox Wholesale has that covered as well. The company offers retailers online video tutorials to show how the illusion works, and the best way to demonstrate it to potential customers and secure a sale. Retailers merely need to open an account and enter a user name and password to access any of a number of the custom made tutorials.
Not content to sit on its laurels, BlackBox is also coming out with some new options shortly to keep the market fresh and interesting for the holiday season. In the next few weeks, the company is launching stainless steel mazes (also known as puzzles), and new magic kits titled "Twilight," "Chrome," "BlackBox Pro," and a few other surprises. Asked why he thinks the BlackBox line is so successful, Yaniv Gross has a ready answer, "People like to get something they know they can do."
For more information:
Future Lines Inc.
1057 Mazzone Drive
San Jose, CA 95120
Tel.: 866-866-7275
Website: blackboxwholesale.com