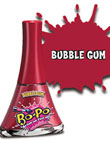 Since Worx Toys' Edutech vehicles have been recognized as one of the most innovative educational toy lines, the firm has diversified its offerings with the revival of a line of brush-on, peel-off nail colors for girls. Bo-Po nail polish, originally marketed by Tinkerbell Play Cosmetics in the 1980s, lets girls easily paint their nails in a wide range of colors. The product is easily peeled off, and allows a quick switch of nail colors.
Bringing Bo-Po back
Worx Toys cofounder, Gene Khaminsky, says the biggest challenge in bringing Bo-Po back to the market was meeting the more stringent safety standards that developed over the past 30 years.  The new Bo-Po is nontoxic and formulated without harsh-smelling chemicals, ensuring that it meets the safety requirements of every country around the globe. In addition, the 10-color line features a vanilla scent, and comes in a spill-proof bottle.

"Tinkerbell was one of those few toy lines that little girls of the '80s could persuade their parents to buy after a few 'pretty, pretty, pleases' at the local store, because it was the first skin care line for girls disguised as a toy," Khaminsky explains.  "But most girls could not wait to go home, brush on their new Bo-Po nail polish with their best friend, and after a quick comparison, peel it off in five minutes to start over and paint each other's nails again." Rolling out the Bo-Po line, he says, marks a significant milestone in the company's brief history. Launched in 2011, Worx Toys has aimed most of its items at boys. "You can't just have a line dedicated to boys," Khaminsky notes. "Launching Bo-Po will allow us to segue into other girls' products."
Color changing lip balm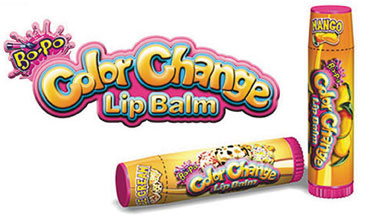 In addition to the nail color line, Worx has introduced a line of Bo-Po color-changing lip balm that changes colors based on PH levels in one's skin. This feature lets the lip balm perfectly match a person's lip color to their skin tone. Available in mango or ice cream flavors, the lip balm was originally offered as a bonus with the purchase of Bo-Po nail color. However, because of strong reaction to the product, Worx Toys will begin offering it as a separate SKU. "With our new Bo-Po line, kids can experience that same fun, spontaneity and amazement of brushing on and peeling off, or watching their lip balm change right before their eyes," Khaminsky notes.
Ordering and pricing
Bo-Po nail polish has a wholesale price of $1.99, and suggested retail is $3.99. The lip balm is available in a two pack, which wholesales for $2.49 and retails at $4.99. The minimum order is a case pack.
Worx Toys
Tel.: 888-967-9869
Website www.bo-po.com