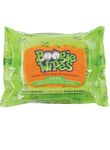 Boogie Wipes are made with saline, to dissolve mucus caused by the common cold, allergies or other things that make kids' noses stuffy. The wipes are extra soft and scented in Great Grape, Fresh Scent or Magic Menthol, for those extra stuffy moments. These wipes are different from run of the mill wipes on the market. Not only do they contain saline, but they are hypoallergenic, alcohol free, moisturized with Vitamin E, Aloe and Chamomile, and gentle enough for kids of all ages.
Wholesale pricing is $2.40 for a 30 count pack, $28.80 for a 12 pack case, and they have a suggested retail of $3.99 per pack. The firm also offers the Clip Strip Bag of Boogie Wipes. They wholesale for $1.25 per unit and $15 for a 12 pack case. Suggested retail is $2.29. Boogies on the Run(r) are ten count packs that wholesale for $1.79 per unit, come in 12 case packs for $21.48, with suggested retail of $2.99. Because 40 percent of consumers request unscented, the firm is offering Simply Unscented Boogie Wipes. These come 30 to the pack and wholesale for $2.40 each. They come in 12 count cases for $28.80, with suggested retail of $3.99. The company has a minimum wholesale order of one case.
Little Busy Bodies has an adult line coming out called, Achooz Saline Nose Wipes. Achooz is the next generation of tissues, because they actually soothe and moisturize the user's nose. This line will be available in Cool Menthol for deep down congestion, and Fragrance Free for everyday use. Achooz will wholesale for $1.20 per unit and $14.40 for a 12 pack case. Suggested retail will be $1.99 a unit.
For more information:
Little Busy Bodies, Inc.
7874 SW Nimbus
Beaverton, OR 97008
Tel.: 503-469-8888
Website: www.boogiewipes.com