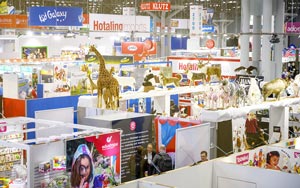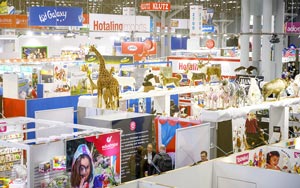 Toy Fair NY allows guests to see new trends, make connections and get discovered at their annual trade show. With being in the know on all the new experiences, educational seminars, industry professionals and a slew of new products, Toy Fair is THE can't-miss event for tapping into the $28B U.S. domestic toy market.
Toy Fair 2020 takes place from February 22 to 25. This event welcomes an estimated 30,000 global play professionals as well as buyers from up to 100 countries connecting with 1,000+ exhibitors. Attendees will be able to hear from industry leaders in a stellar lineup of seminars and activities covering toy trends, safety and compliance issues, export opportunities, intellectual property protections, retail strategies, licensing, and much more.
Here's more of what guests will experience:
Launch Pad. Explore the dedicated first-time exhibitor hall and discover unquestionable innovation. This is a must-visit destination for buyers seeking new toys from the newest vendors.
Knowledge Network. Attend special sessions focused on licensing, retailing, global research, safety, compliance, environmental issues, and more. This experience delivers ample opportunities to learn about innovative approaches and solutions to evolving business needs.
Meet with Play Professionals. Connect with press, licensors, sales representatives, designers and inventors.
Affordable Accomodations. onPeak, Toy Fair's exclusive housing partner, secures reduced-rate hotel rooms in New York City. Booking through onPeak is easy and convenient.
To see a full schedule of events for each day, visit Toy Fair's website at www.toyfairny.com/tf/at-toy-fair/schedule/toyfair/at-toy-fair/schedule-of-events.aspx. You can also see more details on hotel and travel accommodations, a map of the show, a list of exhibitors, and any and all information for new exhibitors who would like to showcase their products at the next event. Whether you're a retailer or supplier, Toy Fair NY is the best way to boost your business savvy.
Toy Fair NY
Jacob K. Javits Center
February 22 – 25, 2020
Saturday, Sunday, Monday: 9:00am – 6:00pm
Tuesday: 9:00am – 4:00pm
Web.: www.toyfairny.com