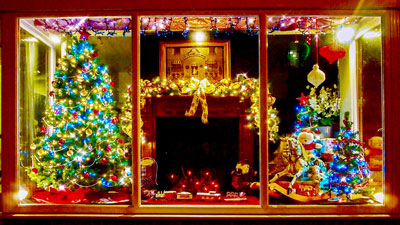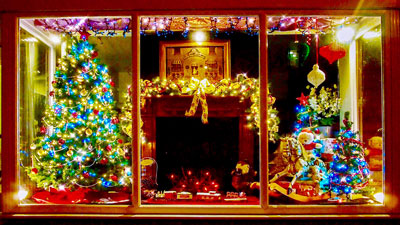 In order to inspire shoppers to buy their holiday gifts from your store, you've got to wow them with some truly creative displays. From window lights and Christmas trees to displaying your products in unique ways and bringing mannequins to life, there are endless ideas to choose from.
Decorating Doesn't Have To Be Expensive
The first thing to keep in mind when thinking of different ideas is that you don't need to spend thousands of dollars on expensive display products. You can create a winter wonderland with some fake snow and a simple pack of white paper. Nothing feels more like the holidays than walking through a store with paper snowflakes hanging delicately from the ceiling.
You can even use the paper for your window display. On top of cutting out snowflakes and stars, you can create a whole city and line the bottom of the window with it. Color in some windows and chimneys, and you've got yourself a cute little town underneath the stars and falling snow.
Bring Out Your Grandmother's Old Throw Blankets
Everyone has that grandparent or aunt who has handfuls of holiday blankets sitting in a chest in their house. Use those, or any holiday themed throw blankets to give your store that home for the holidays feel. They can be hung up on walls, used in product displays or as a backdrop for your windows. These decorating ideas are a plus if you sell holiday blankets already.
Creating Interactive Displays
With how much AI is influencing shoppers in stores, it might be fun to look at some interactive display ideas for your windows. Outernets provides retailers with interactive screens that can be hung in window displays. The screen acts as a mirror for passers-by, and depending on if the shopper is an adult or a child, different products or themes can pop up.
A fun, interactive display such as this is a great way to grab someone's attention and get them interested in your store or your products. If they like your display, chances are they'll stop in to see what you're selling.
Use Your Own Products As Decorations
Even if your store doesn't sell anything holiday themed, there are still ways to use your products as an advantage to put on display. One example is if you sell gloves or mittens, put a bunch of those around a styrofoam cylinder to create a Christmas tree. Just paint the bottom of the styrofoam cylinder brown to look like a tree trunk. You can also use jewelry or other small products to use as ornaments on a display tree or use bags and purses as makeshift gift bags, complimenting them with bows and tissue paper.
Get That Country Christmas Feel
Especially for vintage shops or small boutiques, a country Christmas is as cute as it gets. You can grab branches from your or a loved one's backyard and hang them all over your store, stringing lights on them along the way.
For some extra pizazz, you can use some of those cut out paper snowflakes and hang those, along with some ornaments, from the branches. Compliment the branches with some other wood themes, such as hanging home country plaques all over, large metal stars, white spray-painted crates and linen tablecloths.