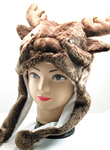 Leading the way to a brighter economic landscape is the wholesale and retail apparel industry, persuading once general merchandiser, BuckWholesale.com, to narrow its market to the sale of hats and caps. Serving the wholesale community online since 2003, the distributor has attained a broad spectrum of buyers, including flea marketers, dollar stores, gift shops and military surplus stores. "After eight years and 12,000 plus happy customers, our wholesale products have increased from 100 to over 6,000 high quality goods," says Timmy Liu of BuckWholesale.com. "But our motto stays the same: 'Quality caps, hats, cheap wholesale price.'"
Fun and Functional Hats Sell
Among the year's best sellers are fedoras, wholesaling per unit for $5 and under, and by the 12 piece case for $4 and under. "Other favorites are our military inspired cadet hats, Christian embroidered caps, and blank baseball caps," notes Liu. "We have more than 500 styles of embroidered and blank hats in our warehouse, enabling us to offer wholesale caps and hats at a value that no other retailer providing this level of quality can rival." As for this upcoming winter, Liu is predicting beanies and the newest addition, animal hats, to be the most popular. Whether you are looking for plush or knit, or you have a preference for dogs or bears, BuckWholesale.com has a vast selection of animal themed, head warming accessories. As the items are moving quickly, the wholesaler ensures an updated in-stock status on its ecommerce site. Wholesaling for under $6 a unit or for $4 or less for a 12 piece case, retailers can expect to make keystone or more. "Most of our hats retail around $10," says Liu.
BuckWholesale.com imports its hats directly from the manufacturer, cutting out the middleman and saving money to keep costs low for customers. Also available to buyers is the option to buy one unit or a 12 piece case, with no minimum order and limited discounts offered through ads found in Independent Retailer magazine. The wholesaler also offers a drop ship program. "Please remember to write in "drop ship," as well as the address in the notes section while placing your order," adds Liu.
For more information:
BuckWholesale.com
4265 Creek Park Drive, Ste 100
Suwanee, GA 30024
Tel.: 866-408-buck (2825), 770-904-2052
Fax: 888-855-7068
Email: service@afareast.com
Website: www.buckwholesale.com
More New Products from Independent Retailer.