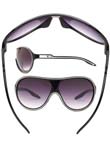 Sunglasses rank among the highest profit retail categories, and they are way less seasonal purchases than in years past. But they won't sell themselves without a little help. Unless you offer a mix of popular styles, colors and price points, and prominently display them, you could be leaving sales and profits on the table. Unless retailers are seasoned veterans of this market, sunglass wholesalers can help determine the best mix. Many sunglasses suppliers are well positioned today to assist in capturing the fashion conscious buyer, the budget minded shopper, and the multiple pair customer, by offering a wide array of price points and assortments.
Santa Ana based, Kachina LLC, for example, is offering its 2010 Euro Eyewear Collection. "Our 2010 campaign is, Make a Fashion Statement in 2010," says CEO, Guy Weizmann. "Kachina is keeping up the pace in the fashion world, bringing retailers the hottest styles from the red carpet to the beach. Regardless of your demographics, Kachina's 2010 Euro Eyewear Collection carries stunning styles that fit any trend, and meet the industry's highest fashion and value demands."
Using its 20 plus years in the sunglasses industry, Kachina seeks to be in the forefront of the latest eyewear trends, drawing inspiration from designers such as DG, Prada, Chanel and Ray-Ban; favorites of many celebrities. To give retailers a leg up to maximize their profits this year, Weizmann details a couple of key trends in 2010, including a continuation of fun colors with bright color frames and color lenses, as well as unique print textures and patterns. Back-to-basic classic shapes and styles are making a comeback. Frame sizes are at both ends of the spectrum, from oversized large frames that are still going strong, to a growing mid size frame trend, to smaller frames with a 70's feel.
Weizmann underscores that Kachina is proud to have been selected for the, "2009 Best of Business Award," in the sunglass category by the Washington D.C. based U.S. Commerce Association (USCA). The USCA, "Best of Business," Award Program recognizes outstanding local businesses throughout the country. "Our goal at Kachina is to provide our clients with a unique spectrum of the latest sunglass styles, with unsurpassed quality and a driven team that goes the extra mile in taking our client's to the next level," he says.
For beginning retailers, Kachina offers flexible starter packs from $299 and sample packs. Starting on orders from 10 dozen, the customer can get free displays or free accessories, such as pouches or cases, or a free dozen sunglasses, depending on the buyer's needs. Pricing on Kachina sunglasses varies from $6 to $36 per dozen, depending on the collection, style and quantity, according to Weizmann.
In speaking about market trends, Ron Bryan, marketing director for Dalton, GA headquartered, Pacific Link, notes: "People were very conservative this past year with the economy being the way it was. Other than the wayfarers and the basic aviators, there were not many trend changes. That is why we are so heavy into sports. We will hit that trend just in time. In our sports line, we carry a full line of plastics and metals; a little bit of everything. We carry a lot of mirror lens type sunglasses that sell well in the southern region and internationally. We have our own brand called, Element Eight, which is very popular. We carry all of the trendy fashion styles, and have between 600 to 700 models in our line."
Bryan says that the firm wholesales sunglasses around the $24 a dozen range, and offers discounts from there, depending on the type of volume that a specific customer does. "We have a higher priced line, our Element Eight Pro line of sunglasses, which offer optical quality lenses, an anti-reflective coating, high end PC and de-centered lenses. We sell these sunglasses anywhere between $4 to $6 per frame. These units are attractive to golf stores and other higher end outlets. These stores are not so much fashion driven as they are quality driven." Bryan reports that in a slow economy, retailers have cut back on some categories of merchandise. But he cautions, "Sunglasses are not where you want to cut back, because there is such a high profit margin. You are only talking two square feet, and that space could generate $2,000 or $3,000 in profits. That is pretty big compared to many products out there."
"In marketing, products will tend to sell better when you can get them near the front of the store, get counter space, or get right by the cash register. Sunglasses are an impulse item. If there is a display located near the front of the store, when a customer walks in and sees the display, he might think, 'Hey, I forgot my sunglasses today, let me get another pair.' What we do with this line is to sell disposable sunglasses. If someone forgets their sunglasses, it won't break their budget to buy another pair on impulse," says Bryan.
How does a retailer go about selecting the best products for his or her market? "If I wanted to buy a piece of jewelry," says Bryan, "I would probably go with the recommendation of someone who knows about jewelry. In the case of sunglasses, retailers should work with experienced people. I have been in this business for 15 years. The people who are successful selling sunglasses have either been in this business for a long time, or go with our suggestions of what to buy. You run into occasional buyers who want to pick the styles themselves. The problem is, if they do not like the style personally, they won't buy them. That is just not the way to go with sunglasses. What you like isn't necessarily what sells in your marketplace."
Pacific Link offers packages anywhere from $198 and up. The $198 package comes with 10 dozen sunglasses and a display. When retailers call to reorder, they can order sunglasses only to refill the display, if they wish.
Gerald Wilson, owner of Vanguard Sunglass Co. in Pittsburgh, PA, is frank about his line. He says that his firm positions itself right at the bottom of the sunglasses market for the most part. "Most of my business, sunglasses and reading glasses, are at 60 cents or $7.20 a dozen, wholesale. But I have some beautiful designer sunglasses with rhinestones, and those Ed Hardy tattoos that sell for $24 a dozen wholesale."
Wilson notes that the way he has positioned his company in the business, it works well in a recessionary period, as well as in good times, because there are always budget minded shoppers in the market. "Although I sell a great deal of product at 60 cents each wholesale, I got a group of glasses I can sell for 45 cents. That is $5.40 a dozen, and that merchandise goes to dollar stores. There is a limited assortment at that price point, but when you get down there, nickels and dimes really mean a lot. For $6 a dozen, I can offer a better assortment, and for $7.20 a dozen, I offer a great assortment that a lot of people sell for $2 each."
Wilson boasts a 30,000 square foot warehouse that he stocks with goods from China. "I go to China and buy only first quality goods, but it is whatever is left over. In other words, if someone cancels an order because the color is not right or somebody's letter of credit expired and the manufacturer will not ship product, I will buy these goods. This is all first quality merchandise we sell. These are not irregulars or seconds; they are quality sunglasses that people did not take for various reasons."
Gerald Wilson does not have one suggested retail price for his sunglasses, but what he does have are thousands of price tags from $1.99, $2.99, up to $49.99. "On my designer glasses," he explains, "I put on price tags of $19.99, $29.99, $39.99, but I sell them for $2 wholesale. There is considerable profit here. People who can sell my goods can make a lot of money. That's why I am still in business." He says that it is increasingly tough for dollar stores to merely sell products for $1, and he sees many of his dollar store customers selling merchandise for $1.50, $2, and even $3. This has created an opening for these customers to carry Vanguard's designer sunglasses, that can be purchased for $2 a frame wholesale. "These stores will buy the designer merchandise for $2, and they are selling sunglasses for $3.99."
Anthony Masiello, owner of Mass Vision Inc., Rochester, NY, reports that the firm has picked up several new designs, including Baby Phat and Juicy Couture, for 2010. Mass Vision wholesales sunglasses for around $20 to $30 per dozen. "Our customers continue to like our mixed dozen," says Masiello. "Everything wholesalers sell is going to be the same style per dozen, only different colors. But in my mixed dozen, I offer 12 different styles. A lot of our customers have only a small amount of counter space, with a small sunglasses counter display. If they have just a little counter space, they want to sell variety. If the counter display holds 24 pairs, they do not want to have just one or two styles of sunglasses."
Masiello has an Ed Hardy, a DG, and a Baby Phat mix. If someone were to call and say they want an Ed Hardy mix, they will get 12 different Ed Hardy styles in the mix. "Then I have something called an Ultimate Mix, where I offer a few styles of each of those categories that I mentioned. The Ultimate Mix is actually my best seller because you will get three Ed Hardy, three Coaches, three DG and three Baby Phat style sunglasses. Every sunglass has an item number on the inside on the arm band, so if the customer buys a mix and has a pair that sells out first, they can reorder a dozen of that style if they wish. Some people buy the mixed dozen to see the quality of our merchandise before buying a large order, and some buy the mix for variety. The Ultimate Mix wholesales for $32 a dozen." Masiello says that his firm is able to keep up to the minute in styles, because his firm is closely involved in retail itself, having about four to six mall kiosks. It also does a lot of festivals. "We are always working with the ultimate customer," he suggests. "When we get a call from a retailer who is new to the business and wants 10 dozen of our most popular sellers, I know exactly what to send him or her." Mass Vision's minimum order is at least one dozen.
Masiello says that cheaper may not be the best way to go in the sunglasses market today, based on his personal experience selling to consumers: "I do festivals. I might be set up next to someone who is selling sunglasses for $5 a pair. I sell mine for $10 a pair. My quality and my styles are 100 percent better, so I have way more sales. Quality sells today. Go for quality and style over price."
Craig Pinkerton, owner, St Louis Wholesale LLC in Saint Peters, MO, predicts that in 2010 as last year, the medium to large size sunglasses will be popular. "They will be more colorful, with purples, pinks and pastels being very hot," he forecasts. "Purple should be a key color this year, based on what the fashion magazines are reporting and other trends at hand. Plastics and metals will sell evenly again. Men's sport frames and metal sport frames will stay pretty much the same as they have for the last 12 years. They are constant solid sellers and will continue to sell. The retro look will begin to taper off, and a lot more basic fashion is likely to come into play, with more vibrant colors. The wayfarer and the aviator will still continue to be the two best selling items. Ornamental, sequins, and rhinestones will start to taper off as well."
Pinkerton also notes that in sunglasses, as in many other categories, consumers are demanding more for their money today. In sunglasses in particular, this means they will want the spring hinge, better plastic, more PC lenses, and good quality control. The most popular retail price point depends on the market you are in, according to Pinkerton. The wholesale price of St. Louis Wholesale sunglasses ranges from $1 to $2 typically, or $12 to $24 per dozen wholesale. Says Pinkerton, "Typically, our sunglasses will range from $5 to $19.99 per pair retail. The magic number for the stores at the mall is $10, and for the flea market, $5. The magic number for the high end boutique is $30. This is different pricing for the same unit. Retail really depends on location and client base."
Although St. Louis Wholesale's minimum order is $100, Pinkerton recommends that if a retailer wants to make money in sunglasses, he needs to begin with a more substantial order. "To make money in the sunglasses business, you need to make a commitment and have a variety of sunglasses to offer," he says. "That is the way to make a living in the sunglasses business. You cannot go out into the marketplace and make miracles with three dozen pair of sunglasses."
If a retailer were to come to Pinkerton to get into the sunglasses business, what would he recommend? "Let's say someone wants to start off with 10 dozen sunglasses. We would suggest seven dozen ladies sunglasses and three dozen men's sunglasses. We would split up the ladies between metal and plastic. Five dozen of the ladies would be large frames, two dozen of them would be smaller. The men's sunglasses would have a wrap-around plastic, a sports metal, and they would have a fashion. We have found that men do not need the choices that women require."
Samuel Huang, VP of Miami based, Sunny Trading, finds that plastic style sunglasses are doing well, and there is a strong trend toward polarized sunglasses. Women's styles are still doing well. Black and tortoise are the strongest colors. "We have probably 800 styles of sunglasses in our line," says Huang. "Usually for first time customers, we will recommend a few of our top sellers rather than have a starter package. We like to recommend our top 10 best sellers. Usually, our wholesale range is from $15 to $60 per dozen. The $60 per dozen is our metal frame polarized sunglasses. A lot of our customers like the high end sunglasses, and that ranges from flea market dealers to high end stores."
Eden Eyewear's Yen Eden, headquartered in Carrollton, TX, notes that rhinestone sunglasses for women and aviator glasses for men are both quite hot today. The Ed Hardy look-alike tattoo sunglasses have been very popular as well. Eden Eyewear's suggested retail is between $8 to $10 per pair. The firm's average wholesale price is about $30 a dozen, but prices range from $18 to $45 per dozen, especially for those with polarized lenses. "We have discounts for volume prices. For example, if a retailer purchases 20 to 50 dozen, they get 10 percent off the wholesale price. Displays are separate from the sunglasses, but we offer countertop and free standing units. The free standing units will hold from 108 to 140 pairs, and the countertop will hold anywhere from 12 to 40 pairs," she says.
Yen Eden explains that the key to strong sales in sunglasses is to select product that is right for your individual market. To assure you are getting the right mix, she advises doing your own market research. "I recommend that people take a walk through their local mall and pay attention to what other sunglasses outlets are selling. Also, be aware of what type of sunglasses that shoppers at the mall are wearing. The mall is a great place to uncover trends, especially on the weekend."
PR Sunglasses' Janice Chien, sales manager, headquartered in Houston, TX, says that retro styles are strong this year. The firm sells to distributors and wholesalers at prices ranging from $14 to $24 per dozen. When a distributor or wholesaler buys case quantities, which is 25 dozen, the firm offers further discounts. Chien suggests that strong sunglasses sales require good displays: "Nice displays attract more people and more sales. We have a display that holds 144 pieces, but with limited space in stores, retailers will typically go for the 80 unit display or the 72 piece display," she says.
With 1,000 pairs of sunglasses from which to choose, how does Chien recommend a retailer get started? "We always ask them what type of clientele they have, and their price point. We can make suggestions on what sells in their particular market. We do not have a starting package or anything like that. I never want to sell them something that they cannot sell at retail."
The following were interviewed for this article:
Guy Weizmann, CEO
Kachina LLC
1640 East Edinger Avenue # L
Santa Ana, CA 92705
Toll Free: 800-550-1231
Tel.: 714-550-0209
Website: www.kachinallc.com
Yen Eden, president:
Eden Eyewear
P.O. Box 117452
Carrollton, TX 75011-8654
Toll Free: 866-385-2077
Tel.: 972-325-1661
Website: www.wholesalesunglass.com
Anthony Masiello, owner
Mass Vision Inc.
315 Malvern Cove
Rochester, NY 14622
Toll Free: 877-609-9968
Tel.: 585-254-3910
Website: www.massvisionsunglasses.com
Ron Bryan, marketing director
Pacific Link Trade USA, Inc.
1223 Coronet Drive, Suite 3
Dalton, GA 30720
Toll Free: 866-824 0079
Website: www.sunglassespacificlink.com
Janice Chien, sales manager
PR Sunglasses
7596 Harwin Dr.
Houston, TX 77036
Toll Free: 800-777-7656
Tel.: 713-975-8252
Website: www.prsunglasses.com
Craig Pinkerton, owner
St. Louis Wholesale LLC
3958 Shady Spring Lane
Saint Peters, MO 63376
Toll Free: 800-340-7642
Tel.: 636-922-4467
Website: www.stlouiswholesale.com
Samuel Huang, vice president
Sunny Trading, Inc.
8900 NW 33rd Street
Miami, FL 33172
Toll Free: 800-327-0032
Tel.: 305-591-3065
Website: www.sunico.com
Gerald Wilson, owner
Vanguard Sunglass Co., Inc.
2908 Smallman Street
Pittsburgh, PA 15021
Toll Free: 800-433-1325
Tel.: 412-471-9730
Website: www.vanguardglasses.com