You've got an idea, you know what to sell and you're ready to get started on your business! As excited as you might be, there's a lot that goes into running a retail business. Not only do you have to figure out how to market yourself on a budget, but then you need to figure out payment processing systems, setting up a website, and other solutions to keep things running smoothly. So where do you even start?
YAHOO! Small Business (YSB) has been helping entrepreneurs and small business owners for over 20 years with getting their business up and running. They offer help with anything from creating email addresses and securing ecommerce sites to listing your business and actually selling products. Now, after much thought, the company has launched a new service to be a one-stop-shop for all businesses that are just starting out.
Everything Starts & Ends With The Customers
"When we started thinking about the whole concept of a one-stop-shop solution, we looked at three different dimensions: the life of customers, the market landscape, and how our business needed to evolve," said Iravati Hingne, Head of Product Management at YSB.
YSB was interested in learning about their customers' issues and interests when running a business, so the company conducted research by interviewing existing and new customers across the small business space. Some of the major concerns were from customers who were spending ages managing different portals, platforms, websites and payment instruments. "We realized that this one-stop-shop with everything in one place, coupled with efficiency and easy-to-use solutions, was something that was missing in the marketplace," Hingne said.
Business Maker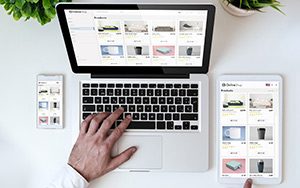 From getting online to seamless POS and everything in between, YSB Business Maker has all the steps small businesses need to get started. From taking the first initial step and buying a small stash of products to managing your money and taking the business to the next level, Business Maker has everything needed in one, easy-to-use tool.
After answering a few simple questions about your company, Business Maker recommends a personalized plan to fit your needs, then guides you through each step of starting your own business. In the overall marketplace, there are a bewildering number of apps and solutions for different business needs, but the guidance component is always missing. Business Maker fills that guidance gap.
Across Four Phases
"We wanted to focus on four different life cycles of a business so that we could start providing solutions that cater to different business types," Hingne said. "First is the plan phase, when thinking about starting a business, next is the start phase when they buy their first stash of products, then there's the manage phase as they're making more money during the day-to-day operations, and lastly is the growth phase as they take their business to the next level."
Once you receive smart recommendations from Business Maker after answering the initial questions, you'll be able to spend more time growing your business with easy and effective tools all on one platform. Easily keep track of everything to start and grow your business with a to-do list, so you're always in control. Once your company is getting a steady cash flow, Business Maker provides the insights you need to understand and improve the success of your business.
One Platform, One Bill & One Sign-On
Another issue that YSB found when interviewing their customers was the amount of bills and invoices small business owners needed to track. Time and money are difficult to come by for smaller retailers, so tacking on multiple bills from different partners, sometimes resulting in many different phone calls when there's an issue can be a big problem and a time waster. Customers will receive one invoice from Business Maker at the end of the billing cycle to make things easier to manage.
YSB partnered with industry leaders to build the rich ecosystem and one-stop-shop platform. PayPal is one of the biggest partners to help businesses with their POS system. They're also partnered with Legalinc so retailers can choose between forming an LLC, C-corporation, or a non-profit business structure. Business Maker will complete and file all the paperwork for you so you can just focus on building your business.
Business Maker also helps small businesses manage time with one mobile sign-on. Customers create an account and get access to all the different tools and partners through Business Maker's platform, making it the place to start and run a business.
"This is going to be the platform where businesses can start and run everything," Hingne said. They don't need to go anywhere else. We just launched this two weeks ago and we have some good data now, but continue to improve and test various other facts."
For more information on the new business tool, visit smallbusiness.yahoo.com.