New year, new business plans, new customers, new products… new you! A brand new year brings on so many exciting changes that can have a big impact on your business, and Independent Retailer is here to make sure those changes are for the better. We've got all the latest trends and statistics that retailers need to be fully prepared for the new year ahead, straight from industry leaders' mouths.
Customer Experiences
Consumer expectations and interests are always changing — just look at the state of malls and how they are changing to keep customers engaged and coming back. Shopping is now all about the experience and technology, and Chris Shaw, omnichannel expert from Manhattan Associates, thinks this will continue to have an impact come 2020.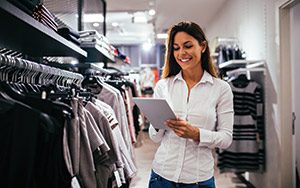 "From a technology standpoint, I think we'll continue to see brands experimenting with virtualization technology both online and in the store, through augmented reality apps and interactive in-store kiosks and mirrors," Shaw said. "Other efforts seem to be focused on making the convergence of digital and physical as easy as possible. Even QR codes appear to be making a comeback, as retailers like Made.com put them on physical store items to drive more research and purchases online."
Digital commerce plays a huge role with customer experiences. With more than two-thirds of companies now competing primarily on the basis of customer experience, brands that learn to leverage maturing tech to differentiate themselves from their competitors will have the upper hand. Rich Lyons, EVP, Digital Customer Experience Leader at Capgemini, says these are the trends that he believes will improve the customer experience in 2020:
Subscription purchasing – creative new subscription purchasing models will play a significant role in digital commerce, as they put customer experience at the center of every transaction.
Individualization – rather than looking at segments of thousands of consumers, brands should focus on the segment of one person (individualizing at scale).
Augmented reality and virtual reality – AR will influence as much as 3 percent of digital commerce revenue by 2020, and more than 120,000 stores will be using AR globally by 2022.
Employee Experiences
In order to keep customers engaged in your product, your employees need to be engaged. Chris Shaw believes the new year will bring more employee appreciation and engagement. "Often, as associates' job duties expand beyond the traditional selling to things such as picking and packing online orders for store pickup or shipment, the tools and systems they are given to perform those jobs are not integrated to the selling solution or were never designed for a store environment," Shaw said.
"When combined with a lack of training time, it can lead to associate frustrations and ultimately retention problems, not to mention the negative effects on the customer. Retailers need to seriously consider what they are asking of their store environments, and deliver solutions that are easy to use, intuitive for digital natives, and were designed for the way we shop today — a unified solution that allows their associates to sell, engage, and fulfill in whatever way their customers choose. Take care of your associates and they will take care of your customers."
A La Carte Platform Experiences Will Provide Flexibility
"As consumers seek out more personalized and experiential online shopping opportunities, merchants will want to have more options for their stores," Meghan Stabler, Vice President of Product Marketing at BigCommerce, said. "Traditionally, they have had to use big, monolithic ecommerce platforms that are difficult to customize and slow to change with new trends. They are also risky because if the platform goes down, your store goes down, too.
"Headless commerce is the first iteration of a la carte online shopping where platforms decouple different aspects of their websites to accommodate different needs. In the next few years, we're going to see a lot more flexibility so that merchants aren't tied to one platform for payments, shipping, content and more."
Technology
Matthias Woggon, CEO and founder of eyefactive shared his top three trends in the technology industry that he found to be the most pressing in the past year: deep analytics, touchscreens, and interactive apps. "We're seeing that they continue to evolve as the businesses we serve in considering how interactive technologies will be needed to differentiate in the year ahead with a keen focus on customizing the brand experience they deliver to customers through content. Brands successfully closing this gap will realize how similar it is to deliver the app experience consumers have on their own smartphones but in this case on the larger screen they're interacting with at their favorite restaurants, stores, events and more," said Woggon.
"In today's ever-changing retail environment, retailers — and their employees — must adapt quickly to meet business demands. This requires nimble operations, communications, and staffing on the frontline. In 2020, you'll see more retailers embrace mobile, digital, and cloud technology to maintain an agile pace. It will be especially important for retailers to deploy 'sticky' solutions for employees that encourage frequent engagement and enable schedule changes, updates, and bulk shift assignments to take place in real-time," said Brett Patrontasch, CEO and co-founder of Shyft.
Ecommerce
According to a report issued by the management consulting firm Activate, ecommerce will reach $300 billion in growth dollars on a global basis. Consumer spending will drive the majority of internet and media growth, and subscriptions will continue to be the key growth driver for consumers. If you're a retailer who's pondered over curating a subscription service for your customers but think it might be too late, it's definitely not.
In addition to subscription services, eco-conscious trends continue to grow. "Over 50 percent of the 18 – 34 year-olds have bought and/or sold a used item online in the past year alone, and nearly 20 percent have rented clothes or accessories online. These younger shoppers are propelling recommerce adoption, driven by a desire for newness and environmental consciousness," according to the report