by Lisa Evans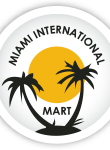 Are you interested in a trip to Florida? Miami International Mart will make the jaunt worthwhile- and worth repeating. On April 3, 2016, the team at Miami International Mart opens their doors to their next wholesale show presenting a wide variety of permanent show floor exhibitors across multiple product categories.
"We have over 25 vendors that exhibit at our show who have warehouses and showrooms all over the country," says show coordinator Lily Cohen. "We are their Miami showroom year-round and host them 4-5 times annually for tradeshow events that attract customers from all over the US, Caribbean, Latin America, and Haiti," she explains.
The show offers spacious showrooms that allow the suppliers to display their wares in the Housewares, Electronics, Linens, Health & Beauty, Toys, Hosiery, Accessories, and Food & Candy categories, as well as many more options. For those buyers looking for deals, closeouts are available, and prices can be negotiated based on products ordered.
"When meeting face to face, retail buyers can work out the best prices and terms based on their specific needs," states Cohen. "This can open the doors to strong relationships with our vendors." As an added incentive to head to Florida for one of the three upcoming shows, held in April, June and September, Cohen notes that "several hotels in the area offer corporate rates. We provide this information online in the hotel section of our website. We have a new hotel on the beach that has joined our family for those looking to mix business with a real Florida experience."
In fact, the show's overall tone is one of relaxed, but productive, buying and selling. "Our buyers' feedback is that our show has a great vibe." Cohen enthuses, "it's busy without being overwhelming. People get the one-on-one attention they need with enough time to negotiate and buy with detail. They enjoy the delicious lunches and energy that only a city like Miami can provide."
Buyers may register online in advance at www.martofmiami.com/customer_signup.html, and Cohen also notes that the area hotels and restaurants are accepting reservations now. Visit www.martofmiami.com for details and more information on the upcoming 2016 shows.