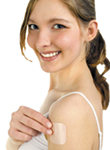 They happen to the best of us: hangovers. A little too much champagne on New Year's Eve, or a little too much celebration over the weekend can leave anyone with a headache, dizziness, and regrettably, nausea. Dr. Leonard Grossman, a plastic and reconstructive surgeon in New York City, has teamed up with a friend to formulate Bytox, the specially formulated hangover prevention patch that effectively replenishes vital levels of vitamins and nutrients one loses when consuming alcohol. Consisting of 12 different organic ingredients, a powerful blend of nutrients, and vitamins like B Complex and amino acids, the Bytox patch has proven to reduce and prevent hangovers.
As Alex Shvarts, director of business development, is quick to remind retailers and their interested customers, "The Bytox patch is not a license to drink the liquor store, but with technology, more and more ingredients can be included in a single patch, allowing our product to give users more nutrients and vitamins than they would receive using an oral supplement." For maximum relief, the Bytox patch should be applied to any hairless part of the body 45 minutes before consuming the first drink. The patch should remain in place for eight hours after the last drink. "You'll go to sleep and wake up feeling great," notes Shvarts. "It can be worn everyday, but it's recommended that you switch where you apply it on the body so that your skin can get the oxygen it needs."
Recently available to retailers, the company hopes to supply to a broad range of businesses. "We currently wholesale the product at $1.70, with a suggested retail of $2.99," Shvarts says. "Most retailers are able to sell it for $3.99 to $4." A decent markup is not all that Bytox offers, as it is affordable to any size retailer with a low minimum of 75 units. New customers receive a special wholesale offer of $1.50, along with a free display. All purchasing retailers will appear on the store locator on the company's website. "More is coming from Bytox. We will have another five lines out, hopefully in the next six months," adds Shvarts.
For more information:
Bytox
375 Park Ave., Suite 2607, New York, NY 10152
Tel.: 646-583-1000
Website: www.bytox.com