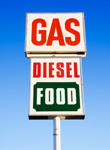 A report recently released by The NPD Group found that Hispanics visit convenience stores more frequently per month than non-Hispanics. The report, The Hispanic Convenience Store Shopper, cites that Hispanics made one to two more visits to major and traditional c-stores per month than non-Hispanics, and that this pattern was linked to whether or not the store employees were able to speak Spanish. Other influential factors included convenience and the availability of motor fuel.
Ten percent of Hispanics attribute their choice in a c-store to the availability of a Spanish-speaking employee, according to NPD research. Over a 30-day period, the NPD study recorded 9.2 c-store visits by bilingual Hispanics, 6.7 visits by Spanish-dominant Hispanics and 5.4 visits by those who were English-dominant, as opposed to 5.7 visits by non-Hispanics. The study details the shopping behaviors of Hispanic c-store customers and reveals that more sales were made to those Hispanics who spoke less English. In essence, the less acculturated store operators are, the greater amount Hispanic customers are likely to spend on a wider variety of items.
"Hispanics are the fastest growing segment of the United States population, and are an important segment for the c-store channel," David Portalatin, c-store industry analyst for NPD says in the report release. "As this report reveals, Hispanics share a common language but they are not homogenous. The key to attracting Hispanics is to understand their shopping behaviors, product purchase, brand preference and reasons for selecting retailers as a population segment and by level of acculturation."
The NPD Group has conducted a number of ongoing studies of the Hispanic market in anticipation of the population growing from 16 percent of the current American population to an estimated 34 percent before 2020. More information about the NPD Group, its studies and findings are available online at www.npd.com.