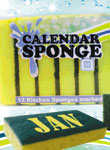 Patrick Taylor and Wendy Lovato were determined to solve a germy problem, once they saw Dr. Phillip Tierno, director of New York University's Microbiology Department, on "The Oprah Show" in 2006.  The brother and sister team listened intently as Dr. Tierno spoke of the dangers of filthy kitchen sponges. As one of the dirtiest items in a household, the kitchen sponge should be replaced each month, the two learned, so Taylor and Lovato put their heads together. To help themselves and others remember to throw away sponges in a timely manner, and to keep track of which sponges were ready for the trash bin, Taylor and Lovato developed the Calendar Sponge.
"Even if you microwave a sponge or throw it in the dishwasher, it will still need to be changed regularly," Taylor explains. "We've seen Dr. Oz cover the topic of kitchen sponges as well, and we were compelled to come up with this idea." The Calendar Sponge builds on the traditional yellow and green scrubbing kitchen sponge, but has each month of the year printed on the green side in yellow ink, which won't wash off. The product has been officially registered and patented. Sponges will be sold in one-year supply packs of 12, and will be readily available for purchase by January 2013. Suggested retail is $12.99 per calendar pack, with wholesale set at $7.50. The minimum order is one case of 12 pieces.
By using the Calendar Sponge and remembering to throw away dirty sponges promptly, Taylor and Lovato hope they will help eliminate billions of germs from customers' households. In the battle against germs, the Calendar Sponge improves users' odds of winning.
For more information:
The Calendar Sponge
10040 West Cheyenne Ave., Ste 170-86
Las Vegas, NV 89129
Tel.: 702-885-7533 and 650-534-6335
Website: www.calendarsponge.com