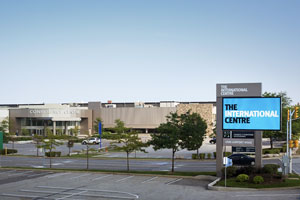 A collective of the nation's most renowned and best-in-class suppliers of home and gift merchandise are working together to open permanent showrooms at the International Centre in Ontario, Canada. What will collectively be known as SHOW T.O. will soon be home to the first eight agencies and distributors opening permanent showrooms, with more than 40,000 sq feet dedicated to servicing Canadian retailers, design professionals, and media.
Those who will be making this bold move includes:
Abbott

Auralim

Canadian Gift Concept

David Youngson & Associates

Edenborough

Group One Associates

North American Country Home

Torre & Tagus
Exciting Times Ahead
"We are excited to be part of a destination for buyers across the country – where they can visit year-round to connect with leading vendors, all in one convenient location," Jody Abbott, General Manager of Abbott, said. Tom Taylor, owner and President of Auralim, also explains, "Auralim wants to give retailers access to new products every day of the year, and that requires a permanent showroom. We are going to be there when our reps and customers need us, on their own timetable – exciting times ahead for the gift industry."
Breaking away from the constrictions and limitations of biannual gift shows, pop-up showrooms and roadshows, David Youngson, owner and President of David Youngson & Associates, explains, "Having a permanent showroom allows us to be more creative with merchandising and displays. It also allows us to showcase new brands and product releases added to our roster throughout the year."
A Relaxed & Personal Buying Atmosphere
Each company is working with its own design firm to showcase its well-established brands. In addition, many of these inspiring showrooms will feature hospitality areas that invite customers to recharge. Independent retailers will appreciate the flexibility of shopping on days that best suit their busy schedule, with a much more relaxed and personalized approach. For retail buyers, this news represents a long-overdue pivot recognizing today's buyers' habits. No longer are retailers limited to two hurried buying trips per year.
A soft opening of SHOW T.O. is scheduled for July, with an official Opening Celebration to follow.