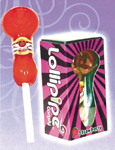 EAGLE EYE PRODUCTS INC. introduces Lollipipe, a good tasting hard candy fashioned into the shape of a pipe that can be filled with tobacco. It actually works as a pipe. Lollipipe is offered in six different flavors that provide as many different colors. They are blueberry, peach, strawberry, watermelon, grape and green apple. A 2.5 inch long plastic tube slides into the candy pipe bowl, so the unit doesn't get sticky. Lollipipe also comes in a carrying pouch, in order to keep it clean when not in use.
The pipe's lifetime varies, depending on how it is used. However, on average it continues to work as a pipe for between ten and 15 smokes. It uses regular pipe tobacco. The minimum order is 12 units. A countertop displayer containing a dozen Lollipipes, two of each flavor, is offered at a wholesale price of $60.
That translates to $5 wholesale per unit. The suggested retail price ranges from $9.99 to $14.99.
For more information:
Eagle Eye Products Inc.
8136 Deering Avenue
Canoga Park, CA 91304
Toll Free: 800-625-6265
Tel.: 818-222-6566
Fax: 818-348-1837
Website: www.wholesalecentral.com/eagleeyeproducts