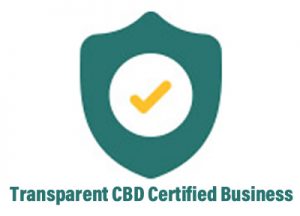 Proper education on CBD and its positive effects has taken a while to root, but we're finally getting somewhere as more and more consumers are looking to CBD products for pain and anxiety relief. The CBD market is now blooming all across the country, but with that comes concerns for product regulations and safety. Are manufacturers taking the right precautions when creating CBD products?
There are some ways to ensure the CBD products are made safely, such as looking at batch testing results, but it's not a requirement and most companies don't offer that information to their customers. Now, with the help of CannaInsider, consumers and merchants have an easier way to evaluate the quality of CBD products.
CBD Transparency Badge Program
CannaInsider, the leading biz podcast in the cannabis world, started a new CBD Transparency Badge Program to help companies showcase test results for pesticides, solvents, and more, as desire for CBD transparency spikes among consumers. Manufacturers can upload a wide range of test results for their products and will then receive a badge that the company can place on their website, social media, product labels and more.
"Trust is essential in this blossoming industry," said Matthew Kind, the founder of CannaInsider. "The vast majority of CBD companies do the right thing, and test extensively to ensure consumer safety and health. We feel it's time that the industry's many good actors take advantage of an easy way to show the world that they fully stand behind their products."
How Does It Work?
This program gives consumers piece of mind and provides companies the opportunity to earn trust. Retailers can also use this badge program to their advantage by showing customers the transparency of the products and helping them to safely shop for CBD in what is a ballooning marketplace.
Participation in CannaInsider's new CBD Transparency Badge Program is simple and it's free. Manufacturers just need to visit the CBD Transparency Badge Program website at www.cannainsider.com/cbd-transparency, upload the required test results, and then they will receive their badge to place anywhere they like.
The current testing scorecard criteria include microbial contaminants, potency, terpene profile, residual solvents, pesticides, heavy metals, mycotoxin, and a declaration of the country in which the hemp was grown. Beginning in 2021, up-to-date testing will require all of these criteria tests, plus glyphosate testing and a Sustainability Scorecard that will include best practices for energy use, chemical use, and adherence to regenerative farming principles.
"This is a great way for businesses to distinguish themselves," said Diane Czarkowski, co-founder of CannaAdvisors and founding member of the National Cannabis Industry Association. "Much of the industrial hemp oil in the marketplace is unsafe, containing things like heavy metals and some products don't even contain CBD. I highly encourage all CBD-focused businesses to be completely transparent to consumers about their products."
The Importance of Transparency
Sales of CBD products continue to rocket nationwide, as people buy salves for sore knees, tinctures for anxiety and supplements for sleep. By 2024, according to market research firm BDS Analytics, sales are expected to reach $20 billion. And a Gallup poll in August found that 14 percent of Americans have used CBD, primarily for pain relief, anxiety and sleep.
The science and research community is beginning to pay close attention to CBD. In October of 2019, the National Institutes of Health (NIH) was awarded $3 million to study pain-relieving properties among cannabinoids, including CBD. This new program is a win for the companies and for merchants, because it gives them an easy way to help consumers find their way through the wilderness of CBD products. And it's great for consumers, who not only can refer to the badge, but can review the third-party tests in one place.