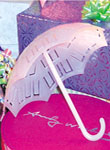 Lillian Campo had been to enough bridal and baby showers, and organized enough events through her catering business to know that there had to be a better way to create that funny hat people make from the bows on gifts they receive. "People would come up to me at the restaurant and ask me for a paper plate, then use a stapler or tape," she remembers. That's how she developed the Good Wish Umbrella, a one-of-a-kind umbrella that features 48 pressure clips, so you can snap on up to 60 bows easily. Even better, the handle slides into the top and can then be used as a practice bouquet at rehearsal dinners.
Made in USA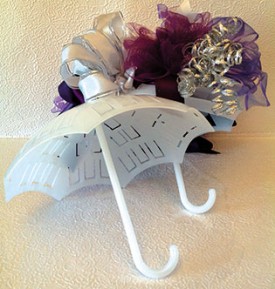 The umbrella is made in the USA of a durable polypropylene, 12 inches in diameter and 4 inches high, and the handle is 9 inches long. It comes in two easy-to-assemble pieces: the handle and the top. Right now, it is available in white, but plans are to make it available in other wedding colors, as well as in baby colors to use for baby showers. Best of all, the umbrella can be re-used, or passed along as an heirloom. "I have two customers who are sisters, and one passed it on to her sister for a baby shower," recalls Campo. "Then the other sister had her first child, and they kept passing it back and forth to each other."
Campo dreamed up the product in 2003 and got the patent in 2005. "I had a prototype made, and my friends thought it was such a clever idea," she notes. All her hard work has just earned Campo the distinction as one of the "Top 100 Leading Moms in Business" in 2014, a competition created by Startup Nation.
Buying details
The Good Wish Umbrella is ideal for bridal shops, where maids of honor or mothers of the bride, who typically organize the bridal shower, visit with the bride-to-be. It's also a great fit for any store where party goods are sold. The minimum quantity is a carton of 24 umbrellas, at $7.95 each wholesale. The suggested retail price is $14.95. Wholesale customers can order directly from a special portal on the website after submitting an application for review.
Good Wish Umbrella
307 Halstead Avenue
Harrison, N.Y. 10528
Tel.: 914-826-0176/ 914-381-2170
Website: www.goodwishumbrella.com