By Kelley Sloyer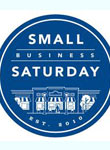 Excitement is in the air, the food and entertainment is ready, and fans arrive early to be the first to enter the building. Small Business Saturday, the independent retailer's Super Bowl, is right around the corner. So what can you do now to turn Small Business Saturday this Nov. 29 into Super Saturday? Retailers can implement the following four tactics to prepare their stores for the big day, and spread the "shop small" message.
Secure vendors
Because Small Business Saturday was developed for independent retailers, it is a great day for your store to show support for other local businesses. Tap into local bakeries and restaurants to order refreshments and goodies for the big day, and depending on your type of store, book a band or guitarist to provide entertainment for customers.
Involve your neighbors
Small Business Saturday is the perfect opportunity to join forces with neighboring businesses in your community, and hold a big town-wide event for your own Super Saturday. Start to develop a plan by visiting your fellow businesses to gauge their interest. Consider creating a community-wide coupon to use, or implement a receipt discount system to reward any customers who shop in another store in your town. The customer can simply show their receipt to receive a discount in your store, and vice versa.
Once you have determined the other participating stores, start to think about how to promote your event. Tap into your neighbors to cross-promote all of the businesses involved, on each individual business Facebook Page. Some communities have a dedicated Facebook Page that promotes all of the businesses in a town. If your community has this option, contact the Page administrators to alert them to your Small Business Saturday plans. Because you are giving advance notice, they can add the event to their planning calendar. Provide the important details of your town's event, and consider writing some quick posts to promote it, to give the administrators the information they need in advance of Nov. 29.
Increase customer loyalty
According to KISSmetrics, businesses with 40 percent repeat customers have generated nearly 50 percent more revenue than similar businesses with only 10 percent repeat customers. As the numbers confirm, loyalty is everything, and creating customer loyalty is easier than ever with the help of social media. Fans love to see photos of themselves and others, so snap a picture of a customer in your store and share it on social media, along with a message about why the customer loves to shop in your store. Or send an email asking customers to respond with one sentence about their favorite products purchased in your store. Post their answers on your social networks, and give the credit back to them. Creating loyalty can also come from delivering exceptional customer service, both in your store and online. Promptly respond to questions, go above and beyond for a distressed customer, and provide free gift wrapping and refreshments in your store.
Reward your customers for shopping in your store with the help of a loyalty program. If you already have one in place, great! If not, consider adopting a punch card to reward your customers for each purchase, or for spending a specific amount of money. Then reward them for filling their punch card with a gift card, gift certificate or special discount. Customers love to receive rewards; by the time their card is filled, it is time to come in to redeem their reward and start a new card, just in time for Small Business Saturday.
Promote shopping small
If your customers are repeat customers, they already understand the importance of shopping small, not just on Small Business Saturday, but every day. However, the need for shopping small may not be so clear to your fans and potential customers. Take to your social networks and begin to post statistics highlighting the benefits of shopping within your community. A message like, "For every $1 spent at a local business, 45 cents is reinvested locally," goes a long way. At SnapRetail, we have professionally designed social posts and accompanying messages to help you spread the shop small message. Visit our Resource Center at snapretail.com/resource-center to download the free social posts for your store.
What are you waiting for?  Start to build the excitement now, and get ready for a trophy-winning Small Business Saturday!