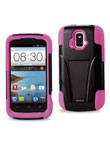 After-market cell phone accessories are an expansive and growing industry, with projected sales of more than $50 billion by 2015. The number of active cell phones will reportedly reach 7.3 billion this year, and the average mobile phone owner in the U.S. spends roughly $60 on accessories over the life of one phone.
Chargers lead the field in terms of numbers purchased, according to ABI Research, with carrying and protective cases not far behind, followed by batteries and memory cards. Other hot accessories include hands-free kits and headsets. Now is the time to augment your inventory, as new accessories are constantly introduced to accompany the array of new and existing phones.
Patented chargers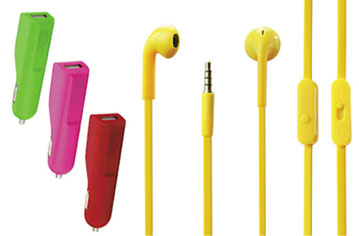 Reiko Wireless Accessories designs and manufactures cell phone accessories, including chargers, cases, headsets, screen protectors, and much more. The company features items for BlackBerry, iPhone, iPod, MP3, Motorola, LG, Samsung, HTC and most other brands. "We have our own design team, and because we have our own manufacturer in China, we are able to offer our customers very reasonable prices that provide high margins," says Flora Chen, marketing manager. "We have more than 1,000 products, and we design and introduce new items every week. The quality of our merchandise is unbeatable."
Reiko Wireless has several patented products, including a popular line of car and home chargers, which come in several hot colors. Cases are available in a vast assortment of colors, patterns, materials, and styles. Two of the firm's most recent introductions are a skull design for the iPhone, and a transformer style for the Samsung Galaxy series. Other new items include sophisticated leather cases with dots, in an assortment of rich colors.
Hybrid and diamond cases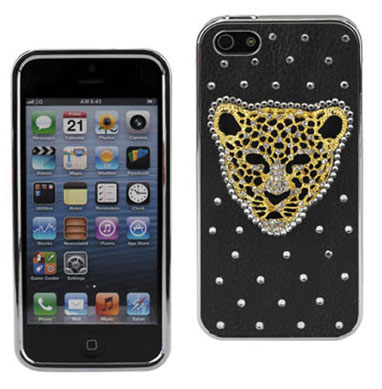 Reiko's hybrid, multi-layered case is a top seller. "It provides great protection, and prevents a phone from breaking when dropped. We have it in hundreds of patterns and colors." Wallet cases continue to be extremely popular, especially among women, Chen adds. In addition to a phone, these flip cases also hold cash, credit cards, driver's license and similar items, so there is no need to carry a pocketbook. Diamond cases are also hot sellers, and these sparkly units are available in an array of designs, from three-dimensional bunnies and bows, to sleek quilted solids in today's trending colors.
Based in the USA, Reiko has been providing high quality merchandise and top-of-the-line services for over a decade. The smallest initial order is $250, and there is no minimum for subsequent orders. Drop shipping is also available, and most products are delivered in high quality packaging. "Our branding is recognizable, and we have a good reputation with consumers. That makes our products easy to sell and good for a store's image," Chen states. Reiko Wireless has two showrooms in Manhattan, and offices throughout the country. Orders can be placed online or by phone.
Easy-Charge Cable & low cost chargers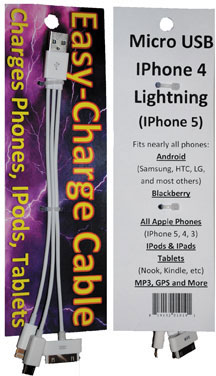 New Age Discoveries is another supplier of inventive cell phone essentials, and carries standard to the highest quality models and all price points. The firm recently introduced the Easy-Charge Cable that works with nearly all cell phones, including Android, Blackberry and Apple; iPods, iPads and tablets, MP3 and GPS, and more. This single cable is about nine inches long, has three ends, and eliminates the need to search for multiple cables to charge different devices. Retail is $9.99 to $19.99, and wholesale starts around $7. "It is a phenomenal cable and the same price as cheaply made cables, but the highest quality you can get," reports Josh Eastman, partner. "Consumers love it because it makes their lives less stressful." Easy-Charge Cable is delivered retail ready on an open card so customers can test it in the store, which often seals the sale.
New Age Discoveries also recently expanded its line with the addition of low cost chargers. Three models are available: round and metal; one that resembles a tube of lipstick; and a fashion charger with a key chain. Each contains a standard battery. Retail is typically $14.99 to $19.99, however merchants can sell them for as low as $9.99 and still double their money, if they buy in large quantity. "Chargers are easy to sell," Eastman points out. "Many retailers of these products sell a dozen a day."
Portable emergency charger/flashlight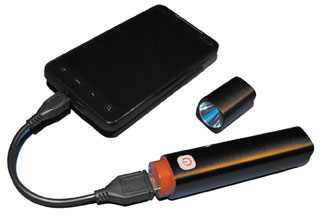 In addition, the company recently introduced Light N' Charge portable emergency cell phone chargers and flashlights, in standard and XL sizes. "Light N' Charge solves the universal problem of a dead cell phone, and can charge a phone while in a pocket or purse. It also can charge any USB device, so it is really handy," Eastman states. "They are top sellers because they provide a huge comfort factor. People know that if they lose electricity or are stranded, they can still power up their devices. Plus, they have a powerful flashlight."
The standard model Light N' Charge will illuminate a room for up to 13 hours. It wholesales for $15 each for 100 pieces, and retail is $40 and up. The 350 lumen Light N' Charge XL shines up to 150 yards and will last up to four hours. This model wholesales for $25 each for 100 units, and retail is $60 and up. "The units contain rechargeable battery packs made by Samsung, which is the best battery available, and they can be charged hundreds of times," Eastman continues. "We have a couple of police departments carrying the XL as a service light. That is how nice it is."
While there is no minimum order, the wholesale price is dependent upon quantity. New Age Discoveries is confident that its products will sell, and offers a no-risk policy to buy back unsold products.
Brand Name closeouts
Evertek specializes in closeouts and excess inventory of brand name merchandise, from cell phone accessories to consumer electronics. "Our customers rely on us for key brand name products to attract new customers, and prop up their profit margins," says Doug Allen, marketing director. "We have thousands of products, and cell phone accessories make up about five percent of our product line. We typically have between 25 and 50 heavily discounted, popular items in the cell phone accessory category." The firm carries cases, chargers, solar chargers, headphones, and specialty cables.
Galaxy S4 carbon fiber cases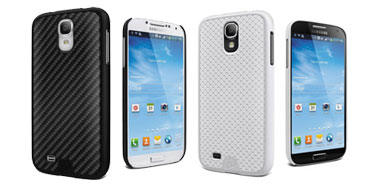 Hot items recently added to Evertek's inventory include Cygnett Carbon Fiber UrbanShield Cases for Samsung Galaxy S4. The high performance, dual material is precision-machined, slim fitting and protects against scratches. It allows access to all controls, and includes a screen protector. Evertek brought in hundreds of these cases in black and white. Retail is $29.99 apiece, and wholesale pricing is at least 85 percent off retail. Another top seller Evertek has in quantity is the 5W USB AC Power Adapter for Apple iPhone and iPod, with a six foot USB dock connector cable. Wholesale is $6.88 for 25 or more pieces, and $10 for less than 25.
The firm's minimum order is $100, and same day shipping is available on orders received before 2 p.m. PST. All products ship from Evertek's 160,000 square foot warehouse in Temecula, CA and 99 percent of products are in stock. Retailers can visit the website to see the current product list, and must register to view pricing. Evertek has full-time customer service, technical support, and return merchandise authorization staff.
Consumers are passionate about mobile devices and their accessories, and this category can be very lucrative for merchants. From powerful chargers to lush diamond cases, there are always top selling products in this category.
Reiko Wireless Accessories
1218 Flushing Ave
Brooklyn, NY 11237
Tel.: 718-418-0077
Website: reikowireless.com
New Age Discoveries
Tel.: 920-533-3579
Website: newagediscoveries.com
Evertek
43195 Business Park Dr.
Temecula, CA 92590
Tel.: 951-252-8700
Website: evertek.com