By Carmen Boeser
More than just miniature versions of adult clothing, children's wear is equal parts sugar, spice, and everything nice. Retailers can help shoppers maximize the cute quotient, and up the fun level by offering versatile, functional, and fashionable options. Following are the most lovable styles in children's fashions for summer 2014.
Summery seersucker
This lightweight, airy fabric is the perfect blend of comfort and charm. Not only is seersucker colorful and chic, it is also easy to clean, which is crucial for parents. Retailers should offer seersucker clothing in a variety of silhouettes, such as dresses, bloomers, shorts, overalls, pants, jackets, and hats. Whether buyers are looking to outfit their children in their "Sunday Best," or simply seeking a nice garment for an outdoor party, seersucker is a must-have wardrobe addition.
Wearable costumes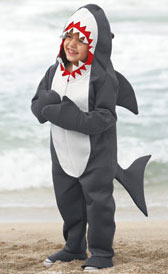 Parents want to foster creativity and self-expression in their children, year-round. Retailers can help stimulate a child's imagination by offering fun and wearable costumes for everyday. Little boys and girls will have a blast slaying pretend dragons as superheroes, ruling their magical kingdoms as princes and princesses, and playing dress-up as their favorite animals.
Prints charming
Another trend in kids' wear is delightful prints. Merchants should carry an array of patterns that will please both conventional and hip shoppers. Timeless polka dots and stripes will not intimidate those who prefer classic styles. Daring buyers will get a kick out of dressing their mini-fashionistas in floral, animal, fruit, plaid, camouflage, nautical and chevron patterns.
Ruffled up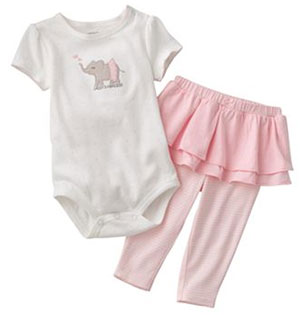 Retailers can up the adorable ante by offering garments like bloomers and shorts with ruffles. This detailing is also showing up on other apparel, including tunics and jumpers. Girls will love twirling around like tiny ballerinas in fluffy tutus, while their parents will appreciate the convenience of having the ruffled skirts attached to leggings. Small swimsuits are even more cheerful with this feature. Whether retailers display garments with ruffles in lace, tulle, cotton, or denim, their appeal is undeniable.
Onesie love
Today's buyers want onesies that put the "fun" in functional. Retailers can set their selection apart by offering witty onesies with clever, tongue-in-cheek pictures or phrases on the front. Some parents will be tickled by onesies that have a sense of humor about their little one's bodily functions. Others may want their child to don a bodysuit that highlights an interest they hope to share, such as skateboarding or shopping. Baby wear typically features garments with a scoop neck, so retailers will really stand out by offering onesies, rompers, dresses, and tops with a cool collar. Peter Pan collars have vintage charm, and shoppers will love one-pieces with interesting details such as polo or kimono collars.
Baby Steps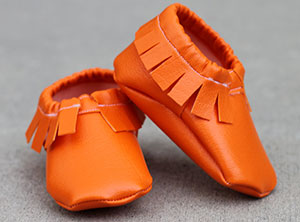 When shopping for tiny footwear, buyers seek shoes designed to help their children learn the basics of walking. Retailers should provide shoes made of flexible, washable materials that help new walkers gain balance and confidence. A hot trend is the moccasin-style, slip-on shoe. Not only are they stylish for both boys and girls, their nonskid soles are essential for wobbly toes. Retailers can display moccasins in suede, denim, and eco-friendly cottons.
Color outside the lines
Rather than the standard pink for girls and blue for boys, shoppers are looking for a rainbow of colors when dressing their bundles of joy. Neons are especially hot for spring and summer. If shoppers want to stick to a traditional color palette, retailers can present multiple shades of pink, including fuchsia and maroon, as well as variations of blue, like aqua and cobalt. Grey and white are sophisticated colors that retailers can recommend for shoppers in search of gender-neutral clothing.
Be sure to balance your product selection with a mix of trendy, classic and versatile pieces. One thing is for sure: buyers will not be able to resist these latest styles.