Specialty retail is a promising category for small business operators. Whether starting a new business or expanding into another product line, carts and kiosks offer retailers the opportunity to run rewarding businesses in choice locations. Today's top sellers especially suited for kiosk sales include trendy collegiate and destination letter artwork, cool touch screen kiosks that create fine art in minutes, and attention-getting remote control toys.
Campus Letter Art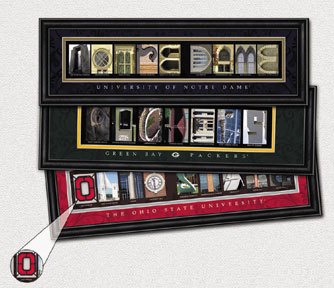 Already top sellers of the in-flight publication SkyMall, Campus Letter Art products are now available for specialty retail sales through iDNA Brands, the creators of Sportula Products. Campus Letter Art puts a clever spin on framed, officially licensed artwork, and features a collegiate series, an NFL series, an MLB series, and a destination series of prints. To create each print, Campus Letter Art representatives visit the locations and take photos of buildings, statues, walkways, railings and much more. Each image becomes a letter of the alphabet, spelling out the name of the school, team, mascot, slogan or location it represents. Underneath each image/letter is a caption showing exactly where the photo was taken, which is a significant selling point to those associated with that school, team or destination.
Campus Letter Art's collegiate series features more than 300 colleges across the country. "It is targeted at that demographic that went to college, or knows someone who went to college and is proud of their alma mater," explains Marc Roth, national sales manager. "If a person went to Ohio State, for example, the images that spell out Ohio State, Buckeyes or Go Bucks are going to be very appealing to that customer."  Campus Letter Art also has licenses with the NFL and MLB, and produces dozens of team prints. The destination series has more than 75 locations such as New York City, Texas and Boston's Fenway Park. Each print is mounted in either a 6 by 18 inch or 6 by 22 inch vertical frame. Campus Letter Art prints retail for $39.99 to $49.99.
Turnkey holiday program
Campus Letter Art provides mall retailers with a turnkey holiday concept, with the potential to move a high volume of inventory during the peak Christmas season.  This concept can be offered on an annual basis, but the best results are seen during the holidays. To support its retailers, iDNA offers the following tips for success:
Keep a clean and organized cart. The best looking carts get the best sales results.
Keep the cart well stocked for the best visual appeal.
Use cart wraps and signage to promote brand awareness and to advertise.
Make sure all customer-facing employees are knowledgeable about the products.
Look to upsell your customer. The majority of buyers are women buying this product as a gift. When a customer buys one, ask about friends and family who may want a print.
Know the best selling prints in your market, and keep them on hand.
The initial product investment to start an authorized retailer program for Campus Letter Art is around $3,500.
Souvinart Image Centers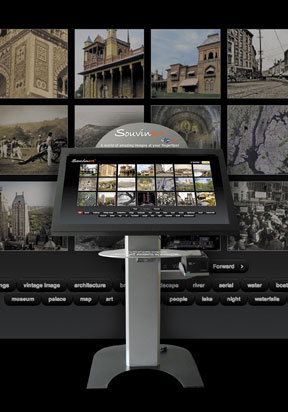 Another hot option for mall sales is the Souvinart Image Center by Pictoura LLC. These podiums house high-resolution touch screens, and a library of images that allow consumers to select and produce top quality pictures on fine art canvas in minutes. Pictoura has a world gallery of more than 40,000 images, and customizes each Souvinart kiosk so it is location specific. "We load each unit with 50 to 75 images that are relative to a retailer's facility and the surrounding area," explains Merri Cook, Marketing and Sales manager at Pictoura, a travel and photography company. Souvinart kiosks can also be loaded with specific images that retailers want to offer their customers. Each image used by Souvinart is perfected by in-house artists and prints out on pre-stretched fine art canvas, made by a 500 year-old German company.
Souvinart prints are available in 8 by 10, 12 by 15, and 16 by 20 inch sizes that are ready for framing and come packaged in a tube. According to Pictoura, an image center can earn a venue from $24,000 to $144,000 in profit each year. "Our transaction fee plus the cost of the material for the largest print is $15," Cook continues. "Retail is around $36, so the merchant is working on a greater than 250 percent markup. Any retailer that has a funnel of traffic would benefit from selling this product."
Impressive gift or memento
Souvinart is attractive to shoppers because they can easily create a spectacular gift or keepsake for low cost. The easy to use touch screen invites customers to browse image categories such as nature, wildlife and cities. Once an image is selected, the customer chooses the quantity they want to purchase and the size of the print, adds it to their cart, and checks out.
To get started with Souvinart, the minimum purchase order is the kiosk. Several models are available, including 42-inch, 32-inch and 22-inch podiums, and a countertop model. The largest of the kiosks sells for $7,995, and the 32-inch countertop model costs $6,495.  The printer, software, custom branding and support signage are included, along with $800 worth of ink and materials to produce several hundred prints. Leasing and finance terms are available, and retailers are invited to contact Cook for samples.
RC helicopters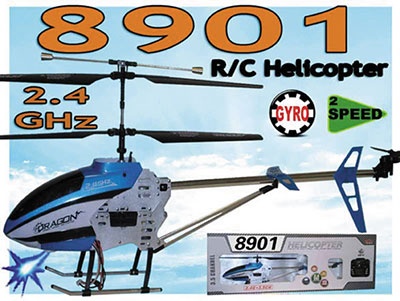 Along with personalized prints and fine art, remote control helicopters hit the mark when it comes to kiosk sales. Emirimage Corporation is dedicated to offering the highest quality, most innovative radio controlled (RC) products, toys and novelties in the industry. The company continually develops new merchandise to add to its selection of RC helicopters, cars, boats, hovercrafts, and other electronics.
Among the firm's top sellers is its newest line of 2.4-gigahertz (GHz) frequency RC helicopters. "This is a more clean kind of frequency that has less interference," explains Eduardo Perl, president. "The X170 is medium sized, and the latest model has a stronger battery for longer flying time. It is very attractive with new LED lights, and has double speed and light switch control." The LH1201 Helicopter with Gyro is another hot item that attracts customers. This 2.4 GHz model is 31 inches long, has double speed and bright LED lights, and is easy to fly both indoors and outside. It is available in red and blue, and has a Li-Po battery for longer flying time. Other big sellers are the 8901 and 9801 Helicopters with Gyro. They are 33 inches long, have double speed and bright LED lights, and are available in red and blue. "These helicopters are top sellers and great additions to any seller's inventory," Perl remarks. "We also have many fun smaller helicopters for beginners, as well as advanced pilots."
RC car & free app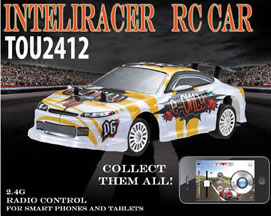 RC cars are also sought-after toys, and the Inteliracer has taken off in popularity. With mechanics geared for optimal performance and agility, this racecar operates on a 2.4 GHz capacity. Controlled by an app which can be downloaded for free, drivers do not need additional remotes. The user simply pulls out a smartphone or tablet, and turns on the Inteliracer. The screen displays a racetrack and the user steers the car by tilting the mobile device to the left or right. "We are developing some very exciting RC helicopters and cars with new features," Perl reports. "They will be available this summer."
With a vast array of products, Emirimage wholesale prices range from $8.99 to $140. "The retail price is always three to four times wholesale," Perl states. All Emirimage products are delivered in high quality, colorful packaging. The minimum order is one case, and case size varies by product.
Mall carts and kiosks offer retailers a unique opportunity to launch a business or to try out a new item. Whether seasonally or all year long, independent retailers can enjoy robust sales with today's trending products.
iDNA Brands
Marc Roth, national sales manager
800 South Buffalo St.
Warsaw, IN 46580
Toll free: 888-713-5343
Tel.: 574-306-4604
Souvinart™ / Pictoura LLC
Toll free: 866-492-2084
Tel.: 845-321-4141
Website: souvinart.pictoura.com
Emirimage Corporation
5269 NW 161st St.
Hialeah, FL 33014
Tel.: 786-287-1250
Website: emirimage.com