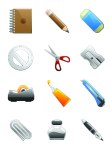 Florida retailers hope a new economic study will spur the state into making a back-to-school sales tax holiday an annual staple. A recently released Florida Retail Federation study said last year's three-day holiday increased sales so much that the state actually collected more in taxes. That's proof that Florida should enact the holiday again this year and every year after that, the trade group's president and chief executive officer said. No decision has yet been made for holding a tax holiday this year
"This report proves, finally, to all the skeptics that these holidays stimulate sales and tax revenue," Rick McAllister told reporters during a conference call. "It's a win for the consumer, the retailer and the state of Florida.
During the holiday, the state temporarily suspends sales taxes on a variety of school-related items such as clothing, shoes, pencils and other school supplies. The Florida Legislature typically sets the tax holiday on an annual basis but sometimes doesn't have it at all. There was no sales tax holiday in 2008 or 2009 because of austere state budgets but legislators revived it last year.