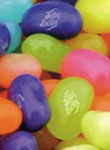 Nearly everyone loves candy, whether it's melt-in-your-mouth sweet or satisfyingly sour. From chocolate to jelly beans, the latest trend in candy is the color candy buffet, a fun new way for shoppers to buy candy by color to accessorize events, from birthday parties to weddings and beyond. Royal Wholesale Candy, a candy distributor launched in 1990, is on top of this trend, and carries dozens of brands and hundreds of products in a wide variety of colors. "Many retailers are jumping on the bandwagon, and the color candy buffet is doing quite well for them," says Mike Dougherty, company VP.
Lavender is a popular color for spring color candy buffets, and retailers have many options with Royal Wholesale Candy. Jordan Almonds, Fort Knox Chocolate Coins, Albanese Gummi Bears, Sassy Suckers, Chowards Gum, Pop Rocks, and more, are available in purple as well as several other popular colors. "All the Jelly Belly products also sell well," Dougherty says. "They are on the pricier side, but retailers have no problem selling them." The Jelly Belly Jewel collection of seven popular flavors, finished with a pearlescent sheen, is a big seller because of the shimmer, he adds. "Laffy Taffy is another hot item people are buying just for the color of the package." Jordan Almonds, available in white, green, navy and light blue, peach, pink, yellow, lavender and an assortment, are also top sellers because of their sleek, solid appeal.
Color buffet books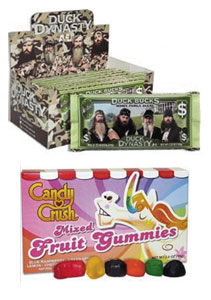 "Most of our customers advertise candy buffets because they are so popular with consumers," Dougherty reports. "They tell us their shoppers want to look through books to get ideas to help put together a color buffet. They create their own books, or can go to our website for pictures to make it easy for their customers to order."
Royal Wholesale also makes it easy for retailers to shop by stocking all the top candy brands, including Boyer, Charms, Jelly Belly, Guittard, Haribo, Hershey's, Necco, Pop Rocks, Wonka and many others. Not only can retailers shop by brand, but also by color, category or occasion. Royalwholesalecandy.com is a full-service distributor, carrying a full line of bulk candy, chocolates, nuts & dried fruits, wrapped candy, sugar free products, packaged candy, count goods, novelties, boxed chocolates, and seasonal products.
Buying details
The minimum order is $250, and retailers are invited to call Royal for wholesale pricing. Retailers buy by the package, which varies by product. Based in Mount Laurel, NJ, the company delivers with its own fleet of trucks to the East Coast. It also ships throughout the Continental U.S. and Canada. Royal Wholesale Candy will also assist buyers in obtaining product displays and acrylic fixtures.
Royal Enterprises
Toll free: 888-261-8277
Website: royalwholesalecandy.com