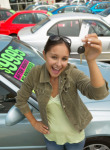 The Conference Board's Consumer Confidence Index which had declined in July, improved moderately in August. The Index, which now stands at 53.5 (on a base of 100, established in 1985), is up from 51.0 in July.
Says Lynn Franco, Director of The Conference Board Consumer Research Center, said in a release "Consumer confidence posted a modest gain in August, the result of an improvement in consumers' short-term outlook. Consumers' assessment of current conditions, however, was less favorable as employment concerns continue to weigh heavily on consumers' attitudes.
The complete story with a full number breakdown, starts HERE.