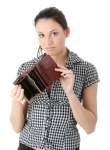 Consumer sentiment in the U.S. dropped more than forecast in March, affected both by higher gasoline costs and the results of Japan's twin disaster of an earthquake and tsunami. The Thomson Reuters/University of Michigan final index of consumer sentiment decreased to 67.5, the lowest level since November 2009, from 77.5 in February, the group reports. The median forecast of economists surveyed by Bloomberg News had projected a reading of 68.
"Consumers are concerned about the rise in gasoline and food prices," Ward McCarthy, chief financial economist at Jefferies & Co.in New York told  Bloomberg.com. "People who are now shelling more money out of their pockets every time they fill the gas tank have a whole lot less left over for anything else they want to spend money on."
Gas prices near the highest levels since October 2008 are straining the finances of American households, whose spending makes up about 70 percent of the world's largest economy. While unemployment has fallen for three months, Japan's crisis led to a plunge in stock values, at one point wiping out all of 2011's gains.
The confidence survey shows consumers say they expect an inflation rate of 4.6 percent over the next 12 months, compared with a rate of 3.4 percent projected in February. Over the next five years, the period tracked by Fed policy makers, Americans' expectations for inflation rose to 3.2 percent, the highest level since August 2008, from 2.9 percent last month.
The complete story, with other economic indicators, can be found HERE.