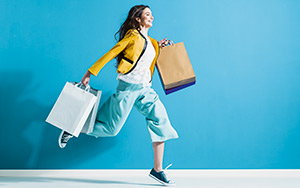 With reports that brick-and-mortar retail sales jumped almost 10 percent in March, consumers are showing their excitement for getting back out and shopping in person. Many experts believe that the COVID-19 vaccine rollouts are a big reason that shoppers are more comfortable with going out, and indie retailers need to be prepared to create awe-inspiring experiences and increase customer loyalty.
Tango, a leader in Store Lifecycle Management (SLM) solutions, shared findings from over 2,000 consumers on their shopping preferences and plans post-pandemic. They found that 85 percent of Americans cannot wait to get to in-store shopping, but they also expect and demand more from retailers, including a "seamless online to store experience." When consumers alternate between the digital and physical world, retailers often encounter challenges in delivering a quality experience. To provide the seamless and immersive omnichannel experience consumers demand, retailers must adopt new strategies which position the physical store front and center. Retailers that are able to do this will come out as winners.
According to the survey, here is what brands need to work on versus what they are doing right:
Where more work needs to be done:
Consumers Miss In-Store Shopping: While online shopping is popular, 85 percent of Americans feel there still needs to be a real store experience.
Keep It Simple: 83 percent of consumers want a better seamless online to store experience when making purchases.
New Store Configurations Necessary: 66 percent of consumers say stores need to change the format of their store to provide a better experience for pickup.
Younger Consumers Are Harder to Please: 87 percent of consumers are satisfied with the options they have for in-store pickup and delivery from stores, with 41 percent very satisfied, and less than half (46%) somewhat satisfied.
These are clear champions:
BOPIS Is the New Method of Choice: 76 percent of consumers agree that having the ability to buy online and pickup in store (BOPIS) has been one "positive" of COVID-19.
More Digital Integration, More Satisfaction: 86 percent of consumers are satisfied with how most stores have integrated their online presence with the in-store experience, with over one-third (37%) very satisfied and almost half (48%) somewhat satisfied.
Shoppers Love Ease and Speed: 84 percent of consumers are satisfied with how stores have made it easier and/or faster for them to pick up online orders, while 41 percent are very satisfied and 43 percent somewhat satisfied.
Hungry for More: 85 percent of consumers say chain store restaurants have done a decent job meeting the needs of their customers over the past year.
"Above all, independent retailers still need to emphasize safety and make sure that they are upholding all of the important health guidelines and restrictions for their area," Deb Gabor, CEO of Sol Marketing, said. "I also think retailers need to lean hard into making the shopping experience unique and singular to their stores to invite customers in, not just to come in and spend money but to experience their brand. I have seen things such as shopping events and special promotions to welcome customers back to their stores."
Vaccine Leading the Way to Recovery
According to the findings of a new global consumer study released by IBM's Institute for Business Value (IBV), respondents surveyed are mostly confident in the safety, effectiveness, and distribution of the COVID-19 vaccines and indicate a desire to return to 'normalcy' after being vaccinated. However, different rules, personal preferences, and social norms formed during the last year means that key industries like retail, travel and transportation may need to provide more seamless, personalized marketing and client experiences to help remain competitive and successfully engage customers.
"Habits formed during the COVID-19 pandemic have raised consumers' expectations of digital engagement, especially in service industries like retail, travel and transportation," Jesus Mantas, senior managing partner, IBM Global Business Services, said. "As we anticipate the 'post-COVID-19 pandemic normal,' businesses should accelerate their digital evolution with AI and Cloud based solutions to help remain competitive. Investing in hybrid physical and digital experiences can help provide a more personalized experience."
Small Businesses Expect Pre-Pandemic Sales by the End of 2021
Sage, a market leader in cloud business management solutions, released their 2021 Return to Growth Outlook report – showing that U.S. businesses are becoming increasingly confident they will return to pre-pandemic revenue levels by the end of 2021. The survey, which polled more than 1,000 finance leaders across American small and midsize businesses, also indicates that many intend to keep the new business strategies implemented during the pandemic.
"There are three main reasons why businesses expect pre-pandemic revenue levels by the end of the year: One is the vaccine rollout; Two is the digital transformation they have made during the pandemic; and Three is the economic environment the government has created," Stone de Souza, President and GM of Small Business Segment, said. "Many businesses had to accelerate their digital transformation because of the pandemic, but this transformation has become an additional opportunity to capture the online shopper."
Welcoming Customers Back Into the Store
The pandemic disrupted the traditional spending patterns of the American consumer as shoppers spent considerably more time at home and reduced in-store purchasing. As more consumers are vaccinated and feel comfortable venturing out, Benjamin Johnston, Chief Operating Officer of Kapitus, says he expects to see a meaningful rebound in travel and other in-person activities that drive retail sales this year.
"In anticipation of this rebound in foot traffic, retailers should make sure that they are able to welcome their customers back with services that so many have been missing. An attractive, well-maintained storefront, possibly with updated customer safety protocols, and a well-stocked inventory shows customers that you care about their safety and that you want their experience to be as good as it was before the pandemic," Johnston said.
As indie retailers continue to prepare for the influx in brick-and-mortar traffic, it is important to keep those shelves filled with merchandise. Here are some new and noteworthy gifts and souvenirs to offer product hungry customers this summer season:
Products:
The Sack Pack
This gift pack is a winning trifecta of men's products specifically aimed to keep men smelling clean all day long. The Sack Pack includes everything needed to make them smell like a champion, including a body wash, solid cologne, and a body spray. Available in 5 delectable scents.
Ballsy
Email: wholesale@themischiefwashco.com
www.ballwash.com
Finger Labyrinth Travel Cards
Unlike puzzle mazes which challenge the mind, labyrinths are single-path designs that help people focus and meditate. Finger Labyrinth Travel Card Packs are perfect to take with you in your purse, bag or backpack. The cards are all flat, each measuring 5 x 7 inches and comes with descriptive text and inspirational verse.
Celtic Art Store
Tel.: 909-273-5285
www.wholesalecentral.com/celtic0001
Shower & Bath Gift Set
Containing a body butter, shower gel, 2-in-1 shampoo, and a mini artisanal lavender soap, these products are perfected to moisturize dry skin and repair damaged hair. They do not contain parabens, sulfates, petroleum derivatives, artificial dyes or fragrances and are certified cruelty-free.
Bleu Lavande
Email: info@bleulavande.com
en.bleulavande.com
Fab Slab Cutting Boards
With wedding season upon us, cutting boards are a great wedding gift for the new couple. Fab Slabs are a natural antibacterial cutting board brand, handmade of sustainable Camphor Laurel trees found in Australia. They are absolutely stunning and practical for every kitchen and, on top of weddings, also make amazing gifts for any chefs.
Fab Slabs
Tel.: 775-782-3000
www.fabslabsusa.com 
Fire in the Hole Handmade Bar Soap
Made in the wild and woody foothills of the Sierra Nevada Mountains, a small but diligent band of outlaws forge soaps and other products that smell like an adventure. Fire in the Hole Soap smells like campfire, gunpowder, sagebrush, and whiskey — everything your customers need to bring the campfire into their bathroom. All soaps are handmade with vegan oils.
Outlaw
Email: howdy@liveoutlaw.com
www.liveoutlaw.com
Map Small State and Provinces Magnets
State magnets are a great souvenir for tourists, and these items are made in the U.S. out of molded rubber for lasting quality. Available in all 50 states as well as all Canadian provinces, they come in a flexible 3-D design.
BL Gifts Imports
Tel.: 866-739-2147
www.blgiftsimports.com
Large Spray Painted California Cowrie Shells
Available in assorted colors, these California painted shells are the perfect impulse buy that can be placed near the register. They even come with a bamboo basket display set so there is no fuss with setup. Three dozen shells come with each order.
DK Hawaiian Collection Inc.
Tel.: 323-516-6029
www.wholesalecentral.com/donko/store.cfm
Puerto Rico Flag Domino Set
Placed neatly inside a wooden box, this Puerto Rican Domino Set is a great souvenir for consumers looking for non-traditional gifts. The dominoes can be played over and over again, with memories from the trip flooding through every time. Each domino piece has the Puerto Rican flag on the back.
Puerto Rico Products
Tel.: 321-201-0672
www.wholesalecentral.com/puertoricoproducts
Bouncing Head Turtles
Available for only $0.99 a piece, retailers are sure to sell out of these cheap souvenirs quickly. Each bobblehead turtle is hand painted, so orders will have assorted colors and styles. These products can be easily set up near the register as an impulse buy.
Sercal
Tel.: 800-776-2252
www.wholesalecentral.com/sercal0001/store.cfm
Flat Grade Amethyst
Each amethyst piece is imported from Uruguay and small enough to be placed in a nice display right next to the register. These stones are one of Kheops International's best-sellers.
Kheops International
Tel.: 800-215-8705
www.kheopsinternational.com