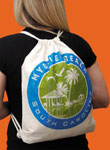 When Kevin Downey, owner and president of State Line Bag Company, came across a large quantity of organic cotton muslin bags in mid 2011, he knew he was onto something big, and the company Downey had started as a liquidation business quickly switched focus. "I was buying and selling large quantities of liquidated products, but the market for cotton muslin bags was so strong that I started working to develop merchandise to complement the original product," Downey explains. "Our products are all organic, natural and vintage looking." The economy cotton muslin bag, which started it all, is washable and reusable and wholesales for $.06 to $.07. A larger economy bag wholesales for $.15 to $.20. "These bags are an appealing way for independent retailers to package smaller items they want to protect, like jewelry and sunglasses," he adds.
Another retailer favorite is the company's line of cotton drawstring backpacks. "They are great as beach or pool bags, for overnight trips, birthday party favors, the gym, or any time you need a small, lightweight bag," Downey explains. The backpacks are 14″ by 18″, with 100″ drawstrings for easy carrying. In addition to plain, the backpacks are available in two printed collections. The Destination Collection reflects popular vacation spots such as New York City, Hawaii and Key West. The Designer Collection features custom designs, including the U.S. flag, a peace symbol and a colorful butterfly. "All three are big sellers," Downey adds. Wholesale pricing for the plain backpack ranges from $1.16 to $3.08, depending on quantity, and it retails for $7. Designer backpacks are printed on both sides in full color and wholesale pricing ranges from $1.37 to $3.64. The suggested retail is $10. "We offer free shipping on the first order," Downey adds.
This summer, State Line is launching a premium cotton muslin bag that is heavier and has a higher thread count than the economy line. "The bags will be great because people can put their own branding and designs on them," Downey explains. "We'll sell them for $.06 to $.50, depending on quantity and bag size." To further support its wide range of buyers, State Line Bag Company also custom designs bags.
For more information:
State Line Bag Company
4745 W. 136th Street
Leawood, KS 66224
Tel.: 913-402-6010
Website: statelinebag.com