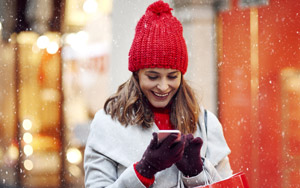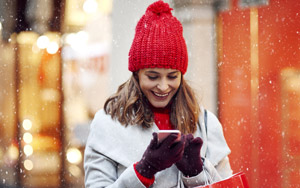 As the summer continues to slip away and there's still no end in sight for the pandemic, retailers have to truck on and start preparing for probably one of the most challenging holiday seasons we will come to know. Most retailers don't know if what they've seen from shoppers since the onset of the pandemic is a new set of permanent habits or only temporary reactions to a global shopping shakeup.
The unpredictability of the holidays and the pandemic make it difficult to know exactly how the season will play out, but many industry experts have their own predictions to help retailers prepare as much as they can. One prediction the experts all have in common is that ecommerce will continue to lead throughout the holidays.
A Dramatic Shift to Online Spending
The 2020 holiday season represents the biggest ecommerce opportunity of the year. Qubit, a leader in AI-led merchandising and personalized experiences, announced findings from a new consumer survey which sheds light on changing shopper habits and reveals what brands can expect during the upcoming holiday season amid the COVID-19 pandemic.
Some of the insights revealed that 1 in 2 consumers currently do more than 75 percent of all of their shopping online, while 1 in 4 do more than 90 percent of their shopping online. When asked about their attitudes towards the upcoming holiday season, 35 percent of shoppers said they'll buy online more than they did before the pandemic, while just 10 percent of shoppers said they'll buy less online than they did prior to the pandemic. Forty percent of respondents also plan to shop online more during this year's Black Friday and Christmas holidays as compared to last year.
Black Friday & Cyber Monday Will Boast the Biggest Sales We've Ever Seen
In 2019, Black Friday and Cyber Monday accounted for 4.72 percent of total ecommerce sales, an anticipated $28.4 billion dollars according to Adobe. When we combine the anticipated consumer behavior and the frequency of online shopping, Jake Cohen, the head of product marketing at Klaviyo, predicts that this year's Black Friday and Cyber Monday will drive $51.1 billion in sales.
Part of this is because retailers are going to try and make up for lost time when their brick-and-mortar stores were closed earlier in the year due to COVID-19. "As brands look to make the most of the remaining months of 2020 and move inventory for new product development, many brands will invest more heavily in ecommerce and will discount as a means to catch-up," Cohen said.
Loyalty is Decreasing
Quarantining at home has made consumers want to try out new brands and not always shop from the same place. The same Qubit survey found that loyalty is decreasing with almost 40 percent of consumers stating they now shop with more brands than they did a year ago, and 46 percent of respondents said they are less loyal to the brands they love.
Data from a Ware2Go survey also found that more than half (55%) of Americans have purchased items online from websites and retailers they have never shopped with before. Americans' willingness to try new brands during the lockdown spans across product categories. Some 61 percent have tried new grocery brands, while 34 percent have tried new vitamin and supplement brands, and 28 percent are trying new pet supply brands.
7 Ways Retailers Are Preparing for the Digital-First Holiday Season
Fayez Mohamood, Co-Founder and CEO of retail technology company Bluecore, recently released a report on how retail executives explore how new shopper behaviors will influence the digital-first holiday season, and here is how retailers are preparing:
Retaining quarantine shoppers.
Brands' focus is on retaining these new customers from trying new brands during the pandemic and offering them experiences that will turn them into loyal customers, especially during the holidays.
Adopting technology that moves at the speed of consumers.
Brands are prioritizing technology investments that can move at the speed of the consumer, and forgoing typical processes in the technology search.
Testing more than ever before.
Brands are testing different technology, strategies and campaigns now, to have some reasonable estimation of what to expect from October through December.
Getting creative about excess inventory to save margins.
Brands are tackling excess inventory with digital communications that create the appearance of scarcity, recommend products based on a combined understanding of margins and relevance, and only surface discounts to shoppers who need them to convert.
Determining brand positioning on social responsibility.
While many brands typically lean into holiday to tell their most inspirational stories, this year, they're focusing on moving forward as a diverse community.
Preparing for less consumer spending.
Brands are looking even more closely at retaining their most valuable customers and identifying consumers who are not experiencing the negative economic effects of the pandemic.
Creating retail spaces that are experiential rather than commerce-focused.
Brands are rethinking the purpose of their brick-and-mortar stores, and pop-up stores and the idea of "experience shops" are again emerging as alternatives.